If you're looking for the best alternatives to Surfer SEO, then look no further. With so many SEO options out there, it can be difficult to decide which will help maximize visibility and rank higher in search engine results.
This blog post outlines some of the top Surfer SEO alternative content optimization tools that not only optimize content but also provide key features to help strengthen your digital marketing strategy in 2023.
The 10 Best Surfer SEO Alternatives in 2023
Looking to optimize your website for optimal organic search traffic in 2023? Then explore the extensive list of features offered by the 10 best Surfer SEO alternatives available.
Frase.io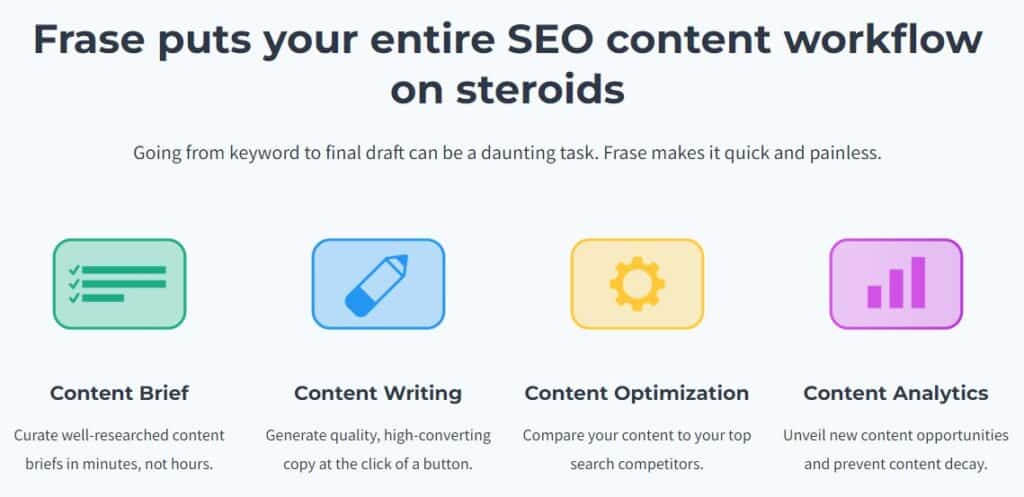 Frase.io is an incredibly powerful keyword research tool that helps businesses – ranging from entrepreneurs to large enterprises – unlock the potential of existing content and drive more organic traffic through search engines.
Unlike traditional keyword research tools, Frase.io provides users with a step-by-step blueprint to not only identify the right target keywords, but also to ensure they are implemented correctly into their website, blog posts, and other content so that it is optimized to their full potential.
With Frase.io, you can easily uncover highly valuable keywords in your industry and capitalize on opportunities for increased online visibility for your business.
Key features
Frase.io offers a range of key features to help optimize existing content and target keywords. With its intuitive content editor, the process of creating highly optimized web content is made fast and simple.
To ensure each piece of content is tailored to a user's needs, Frase.io also provides users with an AI-driven content brief that ensures purposeful writing and on-point optimization.
It also provides users with essential data such as SERP analysis, keyword research, and readability scores to streamline the entire writing process.
All in all, Frase.io makes it easy for anyone to create great online content without needing extra time or resources.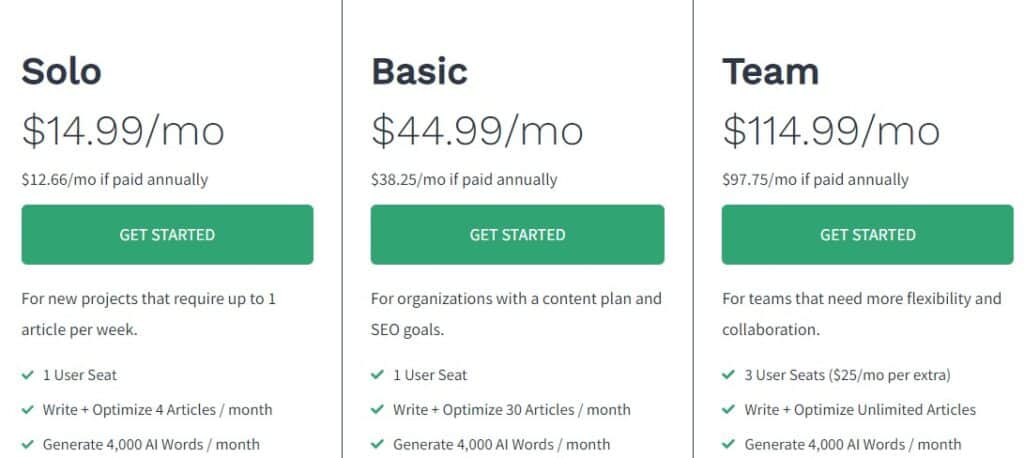 Frase offers great value with a free 5-day trial at only $1. Afterward, there are three different plans to choose from that suit most businesses.
The Solo plan, perfect for the independent professional, starts at just $14.99/mo or $12.66/mo annually.
The Basic plan is suitable for small businesses and starts at $44.99/mo or $38.25/mo annually.
The Team plan comprises all of the features in the basic and solo plans, plus team collaborative access starting from $114.99/mo or $97.75/mo annually – perfect for larger businesses!
All of these plans come with a 7-day money-back guarantee so you can feel secure about your investment in Frase's services.
Page Optimizer Pro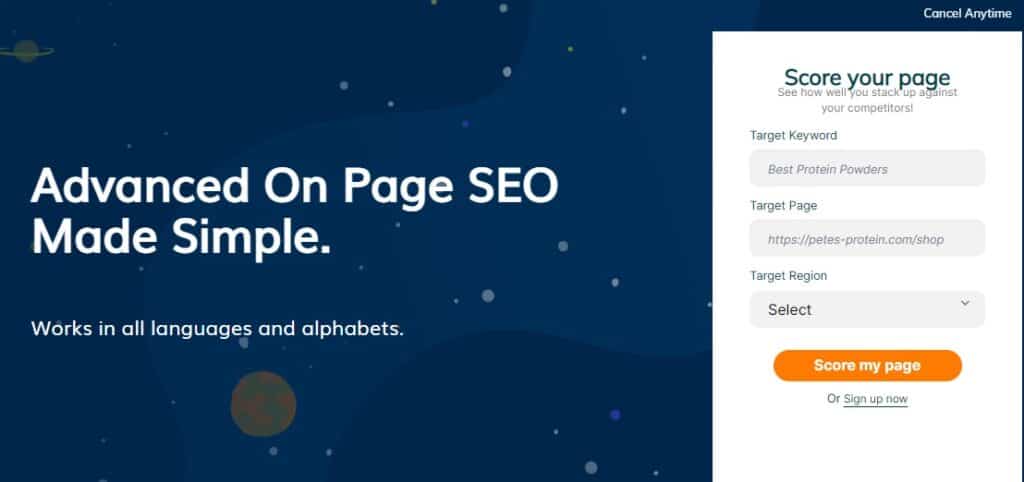 Page Optimizer Pro is an excellent alternative for those looking for a great SEO tool, but who don't want to use Surfer SEO. It offers a comprehensive array of features that will help you optimize any page on your website to rank highly in search engine results.
With its advanced target keyword feature, you can determine the right words and phrases to use throughout your website so that it appears relevant to users.
Additionally, Page Optimizer Pro provides content briefs that suggest what type of content should be used to best maximize your ranking potential, allowing you clear and actionable data when developing your website.
Key features
Page Optimizer Pro is a responsive web design tool designed to help you create stunning, optimized websites. This powerful software comes with an array of key features we think you'll love.
From the ability to customize Title and Description meta tags for each page to the ability to easily add rich snippet code for better analytics and search engine ranking, there are truly endless possibilities.
Pricing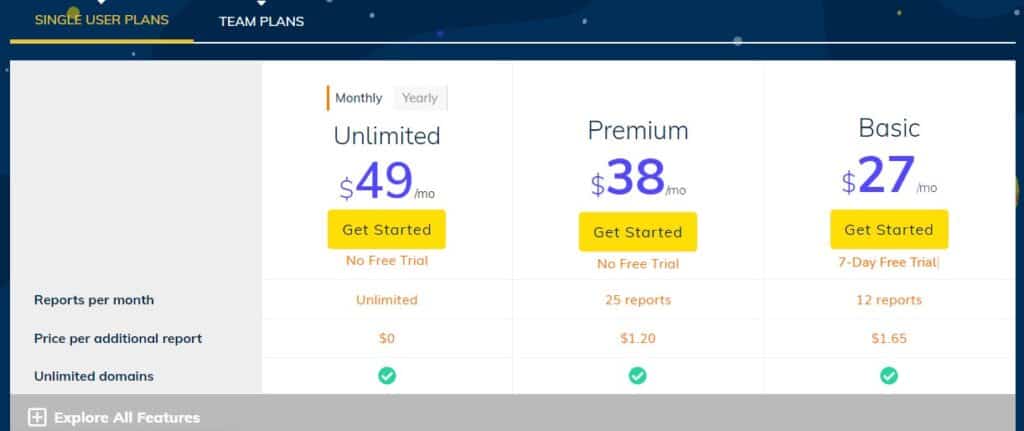 Page Optimizer Pro provides two types of pricing plans for its customers to use. Single-user plan offers 3 plans.
Unlimited: $49, unlimited reports per month, unlimited domains, and no free trial.
Premium: $38, 25 reports per month, unlimited domains, and no free trial.
Basic: $27, 12 reports per month, unlimited domains, and a 7-day free trial.
For those looking for an agency plan, the costs become even more user-friendly depending on their sub-accounts. Anything between 1-5 accounts will be just $120/mo or $1200 a year while 1-5 sub-accounts.
Neuron Writer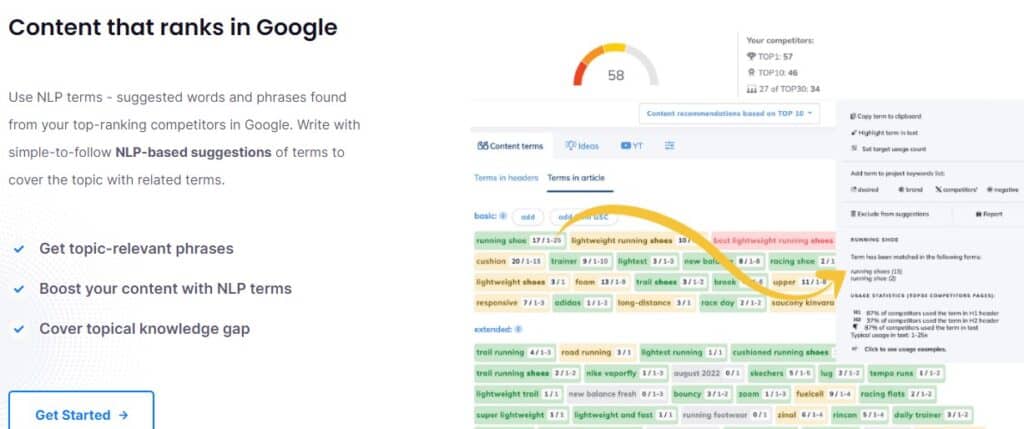 Say goodbye to the days of struggling to come up with quality SEO-friendly content ideas. NeuronWriter is your ultimate solution for creating top-notch articles and dominating your competition.
Step up your game with this powerhouse tool that offers advanced analysis, innovative suggestions, and superior optimization techniques. Experience the future of content creation in 2023 with NeuronWriter.
NeuronWriter Lifetime deal

Get lifetime access to the ultimate content creation tool, NeuronWriter, for just $59! With NeuronWriter, you'll unlock a world of features that'll make your writing process more efficient and effective.
Enjoy 2 projects, 25 analyses, and 15k monthly AI credits to help you craft your content with ease. And that's not all, the semi-automatic content outline generator will help you organize your ideas, while the templates and internal linking (coming soon!) will make formatting a breeze.
Don't wait, upgrade your writing game with NeuronWriter today!
Clearscope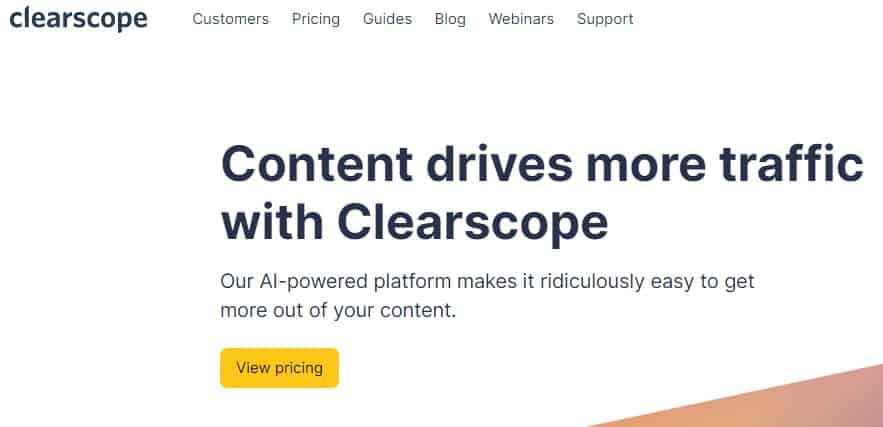 When it comes to alternatives to Surfer SEO, Clearscope is worth mentioning. It was one of the earliest content optimization tools available on the internet and its long-form content is often praised by users.
You can see how your content grade is developing while writing with this tool, which makes your whole content creation process much easier.
Additionally, you can use its keyword research feature to optimize your content without having to switch between tabs or search windows.
Key features
If you are looking for a hassle-free way to edit your content on the WordPress editor, Clearscope can be the perfect solution.
With its Google Docs integration and high-quality content optimization features, you can use the writing assistant to create amazing content with ease.
Plus, free live training at the time of onboarding ensures that even novices can make great use of this plugin. Last but not least, if you already have existing content on WordPress, you can leverage Clearscope's features to update and enhance them.
Pricing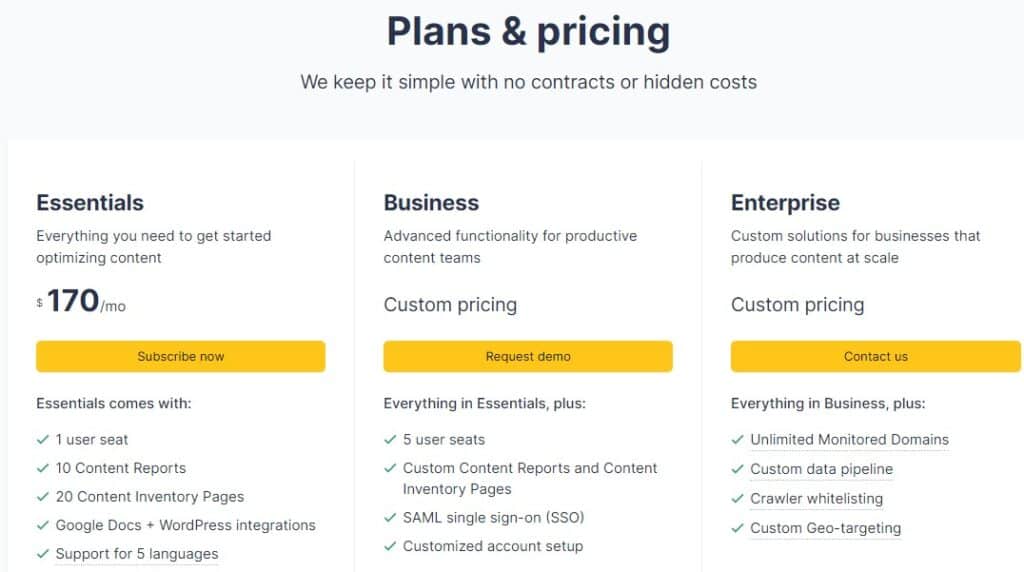 Clearscope offers a variety of pricing plans so everyone can enjoy the benefits of their incredible content optimization platform. Whether your team is just starting and needs basic functionality, or is an established group looking for more advanced tools, there's an option to meet any budget requirement.
The essentials plan rings in at only $170 per month and still offers a wealth of features that can help you create and optimize amazing content.
For additional support with research, analytics, and more all at the click of a button, the professional plan stands tall at $350 per month.
And for those who have specific requirements that fall outside of these pre-set plans, customers have the option to create an enterprise plan tailored precisely to their needs. No matter what your budget may look like, Clearscope has you covered.
Clearscope is one of the more expensive tools on this list.
Growth Bar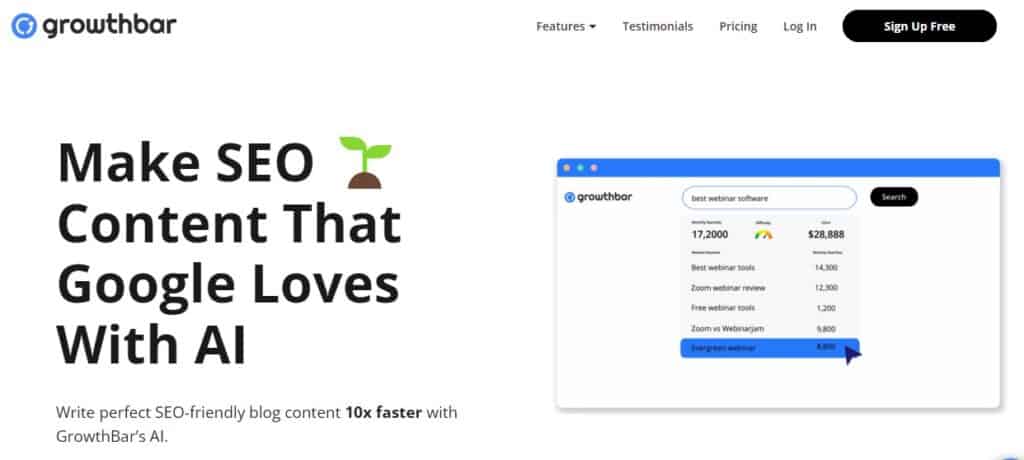 Growth Bar SEO is the perfect tool for small businesses looking to dramatically boost their online presence. With this comprehensive platform, companies can easily access invaluable insights regarding search engine rank, website speed, and indexing, as well as identify areas of improvement for optimization.
Additionally, users can benefit from services such as keyword research, content tracking and generation, regular site audits, and competitor analysis.
Best of all, Growth Bar provides you with a clear understanding of your website's performance and delivers essential data on what changes need to be made to increase your search engine visibility.
Key features
Growth Bar SEO is an innovative tool that offers easy-to-understand website analytics and optimization features.
With its intuitive dashboard, users can quickly access a bird's eye view of the SEO performance of their websites and easily spot areas for improvement.
This makes Growth Bar SEO an invaluable resource for businesses looking to improve their organic search engine rankings and increase organic traffic.
Pricing
Growth Bar SEO provides a variety of packages tailored to meet the needs of any size business, whether small, medium, or large.
Their standard package starts at just $29 a month and gives you access to SEO tracking tools, expert reviews, and optimization advice.
The Pro package is perfect for larger businesses looking to improve their website in terms of SEO and overall performance while providing more tools and resources.
Finally, with their Agency package, you will get every tool available as well as exclusive support from their team of experts when you need it most.
Get the most out of your online presence with Growth Bar SEO's competitively priced packages today.
Topic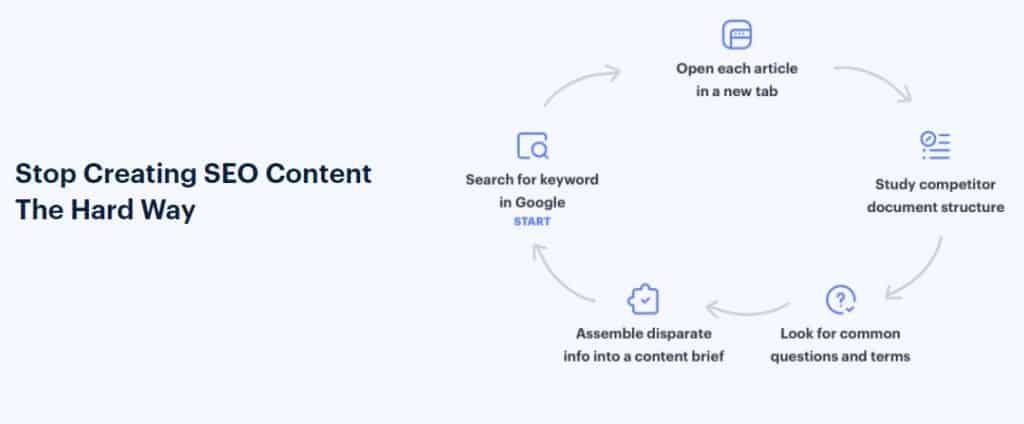 Topic offers an effective and efficient alternative to Surfer SEO by focusing intently on content-related issues. Having researched the search intent of users is key to creating useful, relevant, and engaging content that serves their needs.
Carrying out such research can be incredibly time-consuming, however; Topic makes light work of it in just minutes, instead of hours.
Not only does this platform allow you to create comprehensive briefs for your writers – ensuring they include all necessary information, but also has an editor to help perfect the finished product.
On top of that, with Topic you can easily identify questions your audience might pose based on a given keyword, allowing you to provide them with satisfactory answers through comprehensive material.
Key features
To create the best SEO-optimized content, one should start by entering a focus keyword. This will provide the best possible content brief within minutes.
Following this, it is essential to create outlines for writers, which will ensure consistency and clarity in the content.
After that, Content Optimizer tools can be used to further optimize the content and make sure it gives maximum impact to readers.
For a more detailed analysis of existing content, relying on the Content Analysis Tool can provide great insights into areas of opportunities as well as potential issues with the current content.
To round this off, a keywording research tool comes into play; helping discover profitable keywords that are closely related to the user's focus keyword.
Integrations with Google Docs and WordPress make the process even easier – ensuring the success of creating effective SEO-optimized content!
Pricing
Whether you're an individual looking to start a project or a business trying to take your operations to the next level, Topic has the perfect pricing option for you. With three packages available, there is a plan that meets any budget and any creative need.
The starter package at $99/monthly or $80/monthly when paid annually offers many of the features and services found in each package.
The plus plan costs an extra $199 per month or $160 annually and supplies users with additional support.
Last but not least is the premium package featuring special services and added storage at $299/monthly or $240 annually. Whichever plan you choose, the Topic will be with you every step of the way!
MarketMuse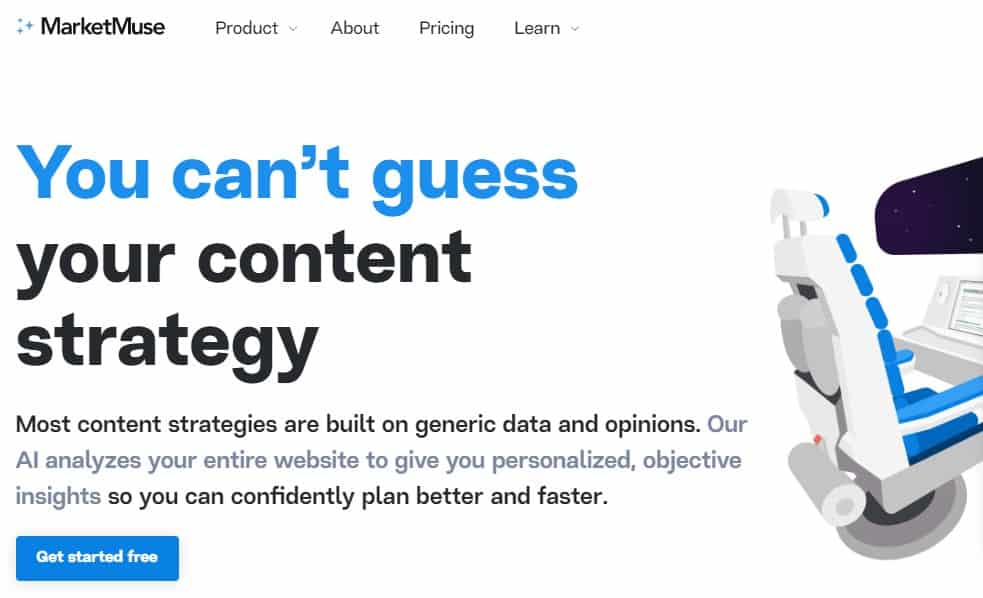 MarketMuse is an incredible tool for content optimization and content planning that can help you create high-quality blog posts, articles, or any other kind of content that'll easily rank on search engines.
With its dashboard full of features like Compete, Research, Questions, Connect, and Optimize, you have a world of possibilities to optimize your content and gain a competitive advantage.
The Research feature helps you find relevant LSI terms by analyzing multiple data points related to your main keyword, making sure your post stands out from the competition. And with the Compete feature, simply enter your post URL and MarketMuse will compare it with top competitors while pointing out what changes should be made to win the traffic race! Content research has never been easier!
Key features
With MarketMuse, content research, and optimization are made easy. With the Research feature, users can find out which of their topics are missing important LSI terms to ensure thorough coverage and accurate comprehension.
The Compete feature allows the user to analyze any post they have written to uncover opportunities for improvement, while the Optimize feature is an all-in-one solution that enables writers to create higher-quality content more efficiently.
It also provides users with a keyword searchability option so they can find relevant FAQ suggestions related to their chosen topic. If greater linkability is needed, the Connect feature offers users a way to improve both external and internal links on their posts.
As a bonus, users have access to Template Library where premade content briefs are available for those seeking creative inspiration or an outline for their content before diving into writing.
Pricing
MarketMuse offers a simple pricing system and even though it is a bit expensive, the features on offer are certainly worth it.
Their free plan, for instance, provides 10 queries per month, 1 user, and limited page-level insights.
The standard plan costs $149 per month and comes with some powerful SEO tools such as site audits and keyword research, whereas the team plan costs $399 per month and gives users access to more comprehensive features like plagiarism alerts and instant answer boxes.
Dashword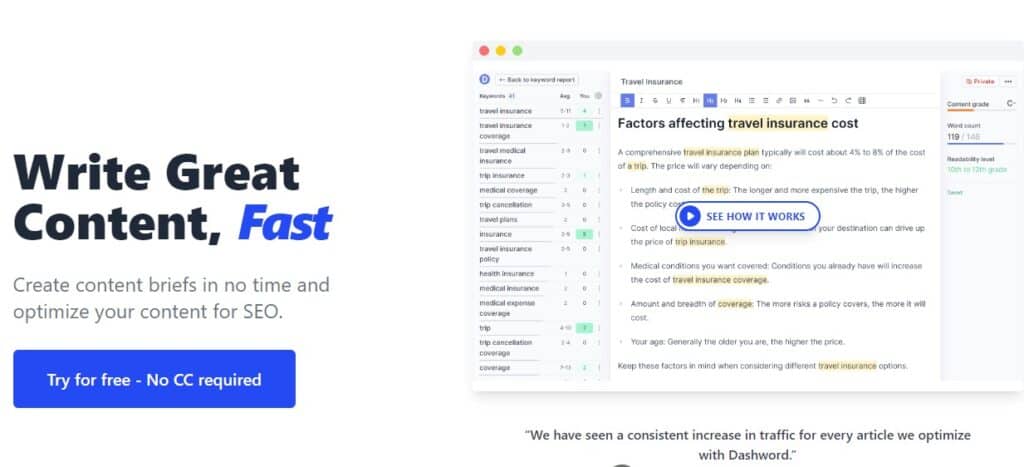 Dashword is a great tool for businesses looking to optimize their content and increase organic traffic. With a comprehensive list of business-relevant topics and answers, the software helps businesses stay ahead of the competition by effectively enriching their content.
Through its feedback and tips, it allows teams to easily compare their rankings with the top result, allowing them to refine their content accordingly.
Key features
Dashword SEO is a powerful tool for any web administrator or marketer looking to optimize their website's visibility. It offers features like synchronizing search engine optimization reporting, analyzing competitor websites, and performing keyword research.
Pricing
If you're looking for an inexpensive and comprehensive SEO solution, then Dashword is the perfect option for your business. With a flat rate of just $99/month, you get 20 content reports, 50k words from their ai writer and up to 5 users. You can ensure that every aspect of your website's search engine optimization is perfectly tuned.
WriterZen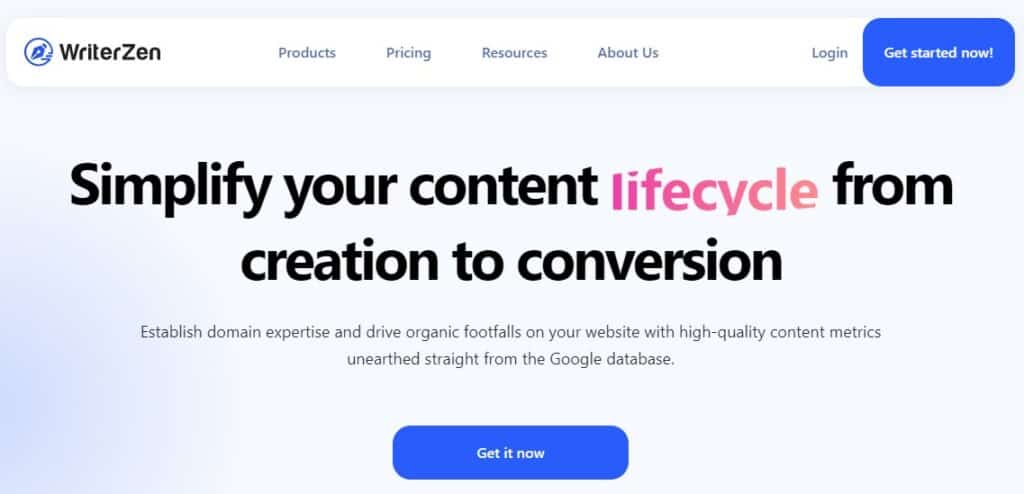 WriterZen is a relatively new tool that has quickly become one of the best alternatives to Surfer SEO. Not only does it have the ability to create original content, but it helps you find keyword opportunities and optimize content for search engine optimization.
Its keyword research function is very useful, as it works similarly to heavy nuggets like Ahrefs and Semrush.
In addition, its topic discovery feature can let you locate valuable keywords, untapped topics, and content ideas that your website may need to increase organic traffic. With WriterZen's features, you can get precise metrics regarding the performance of your website extracted directly from Google's database, while allowing you to gain topical authority and a proper content workflow to satisfy E-A-T requirements.
Key features
WriterZen is the ultimate all-in-one content creation platform, making it easier than ever to create engaging and SEO-friendly content. With a 7-day free trial that doesn't require your credit card info, you can take WriterZen for a spin and see just how helpful it can be!
Uncover new ideas quickly with target competitive headlines and utilize search intents to make sure you're always creating content that meets user queries.
Create clusterable keyword lists and spy on competitors' content easily using the platform's data-driven approach. You can even eliminate plagiarism by conducting complete checks of your written pieces before publication thanks to WriterZen's in-built plugins.
Finally, use their helpful AI assistant to create outlines for each piece of your work using their bespoke templates – taking your writing journey further than ever before!
Pricing
WriterZen offers an easy way to improve your writing and maximize productivity. With three pricing options available, you can choose the plan that suits your needs best.
The lite plan is great for those new to WriterZen and it's an economical choice at $19 per month. If you're looking for more advanced features then the Plus plan may be a better fit at $79 per month.
Finally, the pro plan gives access to even more of WriterZen's capabilities for $199 per mon. Whichever of these options you select, excellent value awaits!
Scalenut

Scalenut SEO is a comprehensive marketing solution created to help businesses completely optimize their digital presence. It provides users with the ability to tailor their SEO objectives and create effective strategies for achieving them.
With Scalenut SEO, users can conduct competitor analysis, track website performance, generate SEO-optimized content, and analyze marketing campaigns.
It provides insights into on-page optimization, keyword research, SERP tracking, and even backlinking activities. All these features mean that companies can gain an upper eye in online competition by having an intelligently crafted marketing strategy.
By utilizing Scalenut SEO they can access the necessary tools and information to maximize their organic search engine rankings and leverage traffic to skyrocket sales and ROI.
Key features
Scalenut SEO has revolutionized the way businesses can analyze and improve their website performance. With its innovative key features, Scalenut makes it easy to conduct onsite and offsite SEO audits, pinpoint areas that need improvement, and track progress over time.
Its AI-driven optimization features enable businesses to craft content strategies that best target potential customers while boosting overall rankings and visibility in search engine results.
Additionally, Scalenut gives users the ability to set up automated keyword-tracking campaigns and gain detailed performance insights from them.
Pricing
Scalenut SEO is the perfect solution for people of all kinds looking to grow and better their online presence. Whether you're a one-person operation like an individual creator or consultant, a budding startup, or a large business or agency, Scalenut SEO has you covered.
The Essential plan at just $39/month is perfect for individuals and consultants, the Growth plan for $79/month is the most popular and ideal for growing businesses, and the Pro plan at $149/month provides powerful tools to help larger teams, businesses, and agencies maximize their brand awareness.
Whatever your goal may be, Scalenut SEO has an affordable pricing plan that'll help you succeed.
What is Surfer SEO?
Surfer SEO is a powerful tool pioneered by industry experts that provides website owners with valuable insight into the competitive landscape of their chosen market. By analyzing data gleaned from a range of diverse sources, Surfer SEO helps to identify trends and metrics that may be holding back an organization's success.
With this information, they can build a customized search engine optimization (SEO) plan that accurately reflects the true nature of their website and targets customers who are searching for just what they have to offer.
This program has become increasingly popular in recent years thanks to its easy-to-use interface and ability to generate quick results. By leveraging its unique algorithm, businesses are better able to stay ahead of their competitors without much effort.
Learn more about Surfer SEO's Pricing.
Why would I need a Surfer SEO alternative?
If you're looking to gain higher visibility on search engines and optimize your website for a greater number of organic visitors, you might consider a Surfer SEO alternative. Surfer SEO is a powerful tool designed to help webmasters boost their search engine rankings with SEO data scraping and analysis.
However, there may be times when other factors weigh into the mix, such as budget or existing service providers in your area.
In these cases, seeking out an alternative to Surfer SEO may make more sense. A reputable alternative can provide nearly the same level of powerful data analysis that smaller online businesses demand to compete with bigger search engines. Alternatives can also present new strategies for reaching out to potential customers or clients by unveiling areas where you may have previously been overlooked – all without breaking the bank.
Best content optimization tool
Optimizing content is becoming increasingly important as companies strive to capture their audience's attention. One of the best tools for achieving this is an optimized content tool. This invaluable tool can identify search optimization opportunities and provide in-depth, personalized recommendations for improving rankings in the search engine results pages.
It helps turn existing content into optimally formatted pieces that are sure to catch the eye of potential customers and drive an increase in website traffic.
It allows users to monitor their performance regularly and make changes over time – ensuring that website owners have continuous access to fresh, relevant, optimized content that will keep them at the top of Google searches.
Best of all, this powerful solution requires minimal effort and assists brands with building meaningful relationships with customers, leading to long-term success.
Things To Consider When Researching Surfer SEO Competitors
Knowing who your competitors are and what their SEO strategies are is essential to staying competitive in any market. When researching surfers' SEO competitors, there are several important points to consider so you can get the most accurate view of what's happening.
First, take a look at the search volume for both your keywords and those of your competitors, as it will give you an idea of how much effort they're putting into their SEO campaigns. Make sure the tool has some form of a content editor.
Then, look into their overall website traffic and see if they're using any special tactics within their content or link-building campaigns to earn more authority points with search engines.
Finally, pay attention to their branding strategy so that you can create unique ways of standing out against them. With these tips in mind, you'll have the best chance of staying ahead in the always-changing world of surfing SEO! You might also need an ai writing software tool to create content.
The Verdict: Which is the Best Surfer SEO Alternative Overall?
When it comes to Surfer SEO alternatives, there is no one-size-fits-all solution. Each platform offers its unique advantages and considerations. In this case, two of the most popular surfers' SEO platforms are Frase and Page Optimizer Pro. Both offer powerful usability tools that make it easier for website owners to optimize their sites.
Neuron Writer offers the best lifetime deal when it comes to a content optimization tool.
Ultimately, the question of which platform is better depends on the site's individual goals and needs. Experience users may prefer the precise control offered by Page Optimizer Pro, while more time-conscious site owners could benefit from the added efficiency of utilizing Frase's AI capabilities.
Whether you go with Frase or Page Optimizer Pro is up to you!