Are you ready to ramp up your business's online presence and take it to the next level? Surfer SEO is here to help. Surfer SEO is a powerful search engine optimization (SEO) platform that offers users an all-in-one solution for boosting their website's rankings in Google so they can reach more customers and maintain their number one spot on the SERPs.
In this Surfer Seo review, I'll be taking a deep dive into what makes Surfer SEO stand out from other options and explain why it could be the perfect choice for your business or website.
Despite being relatively new on the scene, Surfer has quickly become a dominant power in the world of organic search optimization. But is it worth investing in, and will it deliver results? Read on to find out!
What is Surfer SEO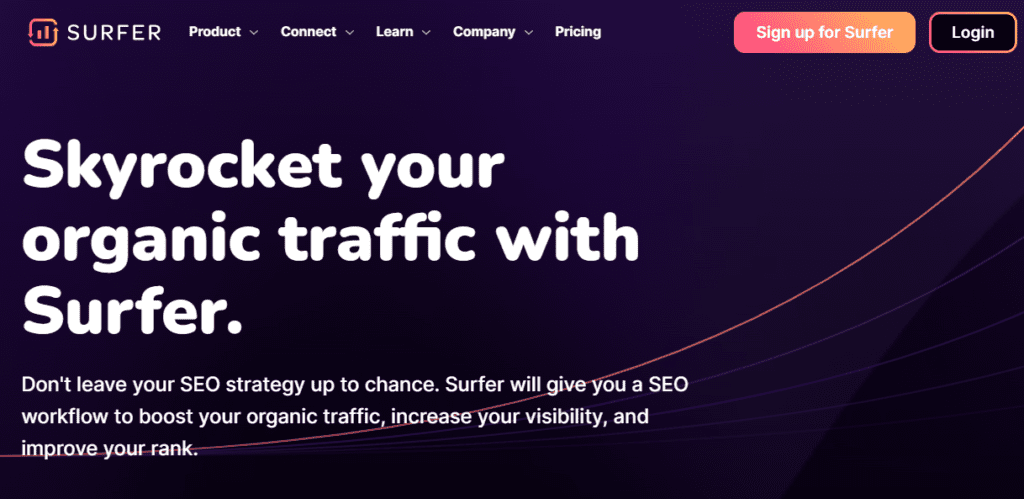 Surfer SEO is a powerful SEO tool that helps optimize websites for search engines. It takes into account multiple metrics, such as word count and search volume when creating optimization suggestions, making it incredibly precise and effective.
Despite the complexity of this tool, it takes minutes to set up and adjust the parameters with their user-friendly dashboard.
Surfer SEO review 2023 has shown it's one of the best options available in terms of ease of use and cost-effectiveness. Its results are long-lasting, as well, which makes it an invaluable asset for any website owner's marketing arsenal.
How Does Surfer SEO Work?
By following the Surfer SEO guidelines, it is possible to reach higher rankings faster and stay ahead of the competition. The tool also constantly updates research findings so website owners can understand current ranking trends even more closely.
Overview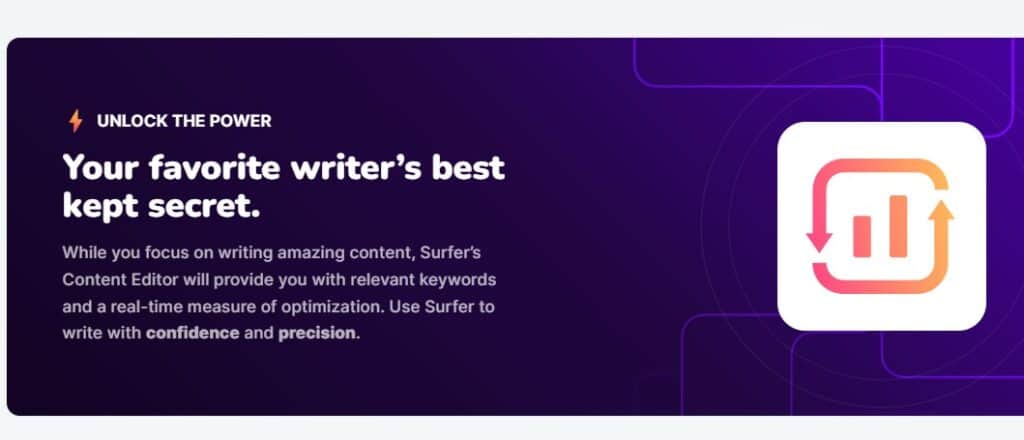 Surfer SEO is an advanced and comprehensive keyword research, optimization, and analysis tool. It allows users to quickly compare their website's SERP based on parameters such as keyword density, organic position, and external backlinks.
With the use of its Serp Analyzer Tool, you can get a full view of all competitor's domains for any given query in the top 10 of Google's search results, with supplemental data on domain authority and traffic estimates.
Additionally, its keyword difficulty score can give an estimate of how difficult it might be to rank for specific queries by taking into consideration elements like page strength, backlinks, or authority score.
All of these features combined make Surfer SEO an invaluable asset for anyone looking to do comprehensive keyword research and seo optimizer!
Surfer SEO Features
Surfer SEO takes the guesswork out of SEO. It helps even the most novice website owner understand how to optimize their site for search engine results. Enter your target keywords, and it will analyze the top 10 sites ranking for them – automatically!
Once you have a snapshot of the best-performing content, you're free to use Surfer's suite of tools to make sure your website is up to par.
You can easily view competition analysis, spot and fix errors in metadata, find LSI keywords, and more – all at the click of a button! SurferSEO even gives you insight into what changes competitors are making, so you can keep up with them in real-time.
Get smarter about SEO today with SurferSEO features and start optimizing now!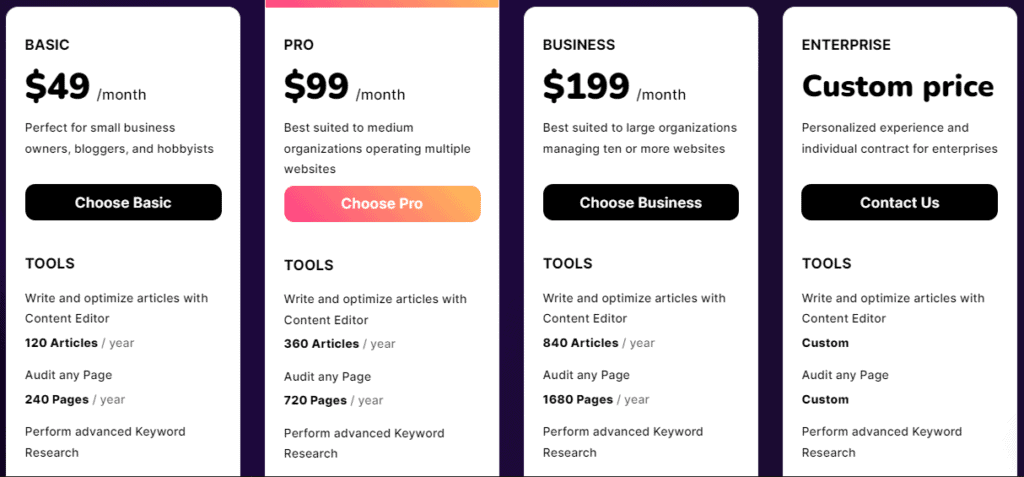 Basic
Surfer's basic plan starts at $59 per month and $49 annually.
Surfer SEO offers some of the most competitive pricing on the market. Their Basic plan is perfect for smaller businesses that are just starting, as it provides premium SEO services with no hidden costs. This plan is cost-effective, allowing customers to get the most out of their web presence without breaking the bank.
The Basic Plan allows customers access to up-to-date trends and strategies in the world of SEO and ensures businesses can stay ahead of their competition.
With unbeatable prices and quality service, Surfer SEO's Basic Plan is a great way to get a website up and running and make sure it starts on solid footing.
Pro
Surfer's Pro plan starts at $119 per month and $99 annually. This is the plan that I use.
For serious SEO professionals, Surfer SEO Pro offers the perfect subscription package. Get access to on-demand updates of your organic keyword data like rankings, traffic, SERP features, and click depth together with unlimited reports and frequent automated recrawls to give you the best insights into competitor rankings.
If you want to get a competitive edge in the search engine world, Surfer is definitely for you. You'll save time on monotonous manual web crawling, so you can instead focus on building effective strategies for better SERPS performance.
Business
Surfer SEO is essential for any business looking to leverage data-driven SEO for success. With several pricing plans, businesses of all sizes can access Surfer SEO's powerful optimization platform with ease.
Companies on tighter budgets have the Basic plan and access to the core features of Surfer SEO, while larger companies have the option of a more comprehensive package with the Growth plan.
Whether you identify as a startup or a large enterprise, choosing the right pricing plan from Surfer SEO will give you all the tools necessary to stay competitive in your market.
Enterprise
Surfer SEO's Enterprise pricing is perfect for companies and organizations looking to take their online search engine optimization efforts to the next level. Enterprise plans offer sophisticated tools that can help you quickly identify areas for improvement on your website, detect opportunities to maximize visibility and drive more quality traffic.
With its keyword research tools and capabilities that allow you to assess the competitiveness of a given market, as well as analytics that enable you to track your progress over time, Surfer SEO's Enterprise pricing offers an invaluable suite of resources for organizations optimizing their sites.
Surfer Seo – A keyword research tool

Create Clusters for the main topic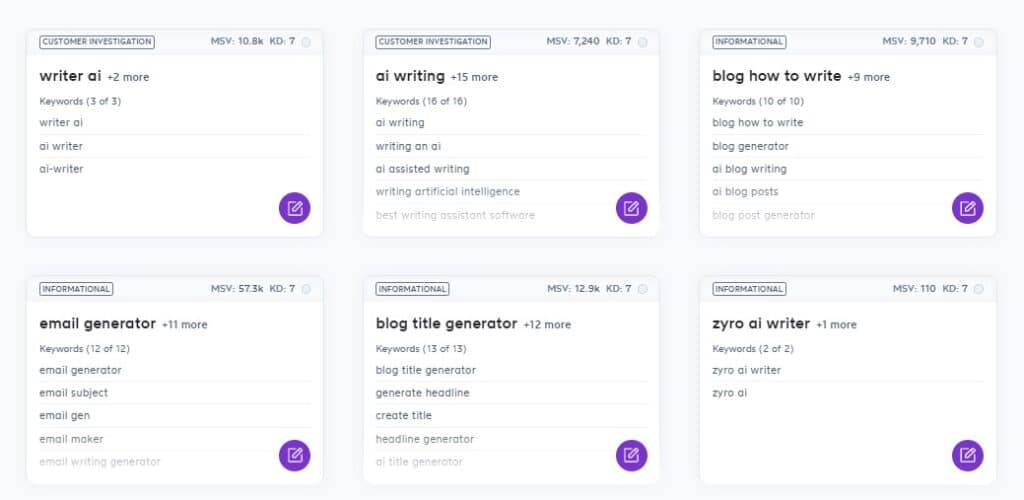 Surfer SEO is an invaluable keyword research tool that helps optimize content for maximum visibility and ranking potential. This intelligent website allows users to easily create groups of related keywords, known as clusters, for any given main topic.
Each cluster contains a range of related keywords, organized in a user-friendly format and backed by powerful data from Google SERP results.
Surfer SEO helps users streamline their keyword research process while also accessing invaluable insights into search intent and competitor's strategies.
Whether you're a new blogger or an experienced professional, leveraging the power of surfer seo keyword research clusters can have a major impact on your website performance and help increase content visibility across Google's search engine.
Surfer SEO content editor
The Content Editor function allows users to not only perform keyword research but also modify existing content for immediate optimization. With simple drag-and-drop editing tools, plus varied templates and a suite of advanced settings, content creation becomes lightning-fast with meaningful results.
In other words, if improving your search engine performance is at the top of the agenda, Surfer SEO just might be one of your new favorite tools!
Content Structure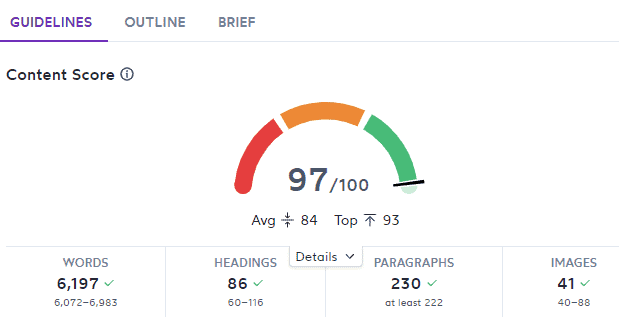 Content structure tools like Seo Surfer are essential for any successful website, allowing them to optimize the reach of their posts while catering to the needs of their readership. All in all, by leveraging services like Seo Surfer, businesses can increase their visibility on search engine rankings while simultaneously optimizing their content.
The content structure consists of the word count, headings paragraphs, and images. This is great for on page seo.
LSI keywords – Terms to use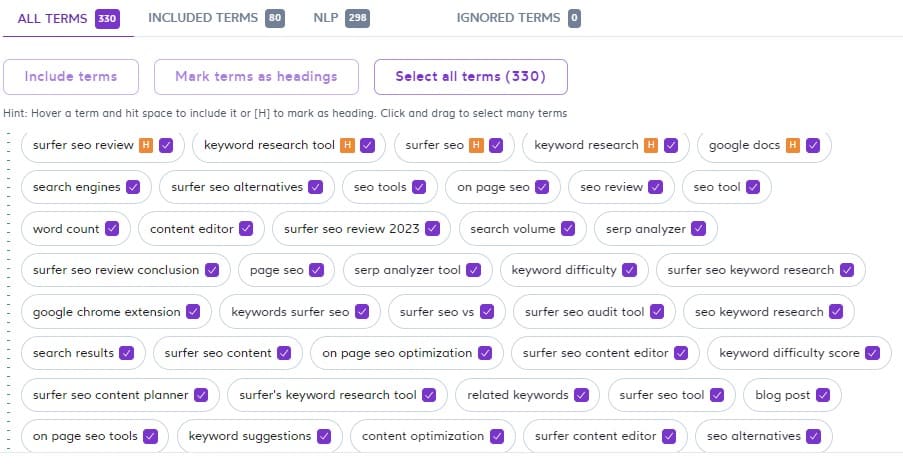 Surfer Seo is a revolutionary keyword research tool that can help you create content that is optimized for search engines. Utilizing its proprietary semantic analysis, it digs beneath the surface of search terms and identifies Latent Semantic Indexing (LSI) keywords.
These LSI keywords are associated with your topic, but not necessarily appearing in the same search query, making them much more powerful for SEO.
Incorporating surfer seo keywords and these terms into your content will elevate it to a whole new level, as you slip past competitors who haven't tapped into this incredible resource.
Content score
Surfer SEO is a keyword research tool that can provide invaluable insights for content creators looking to stay ahead of the competition. With its innovative 'Content Score' feature, users have an easy and concise way to evaluate their content's performance from an SEO perspective.
Allowing them to take stock of what works, what needs to be improved, and potential keywords they should utilize.
You can also compare your content's score against competing sites, giving you additional insights on how you can best optimize yours for success.
Ultimately, Surfer SEO is a powerful tool for anyone wanting to gain a deeper understanding of the search landscape.
Surfer SEO Audit tool
An SEO audit tool can be incredibly valuable to identify website design weaknesses that could be keeping you from meeting those goals. With the Surfer SEO Audit tool, businesses can perform a thorough analysis of their page structure and content while still maximizing their time with data-driven recommendations as well as organic keyword research.
By utilizing this powerful tool, businesses can detect problems quickly and make the necessary adjustments so they can see better results.
Domain Planner

The Surfer SEO Domain Planner is an excellent tool for webmasters to use to ensure their domain and website content has maximum reach.
It effectively analyzes, monitors, and tracks how domains are performing online and how they can be improved. By harnessing the power of artificial intelligence, Surfer SEO Domain Planner quickly recognizes opportunities that can't be seen with the naked eye.
With the ability to streamline SEO processes and save time, users of this product can easily find optimal keyword combos, analyze SERP data and increase the visibility of their website across search engine rankings.
Implementing its tools provides effective decisions that help gain higher results than ever before. In short, it helps webmasters succeed where they weren't able to before!
Surfer SEO SERP Analyzer— Detailed Breakdown

If you want to gain a competitive advantage in the search engine results pages (SERPs) for your website, then taking a look at Surfer SEO's SERP Analyzer is an absolute must.
This powerful tool provides a detailed breakdown of all the factors that determine how SEO-friendly content is and what changes can be made to increase relevance and rankings.
With it, you'll identify factors like competitor analysis, keyword optimization, indexability, backlinks, and more; these are all incredibly crucial elements that go into ranking higher on the SERPs.
Making use of the Surfer SEO SERP Analyzer will give your website the best possible chance to drive qualified leads and achieve top results with Google.
Does Surfer SEO work?
Surfer SEO is a popular technique that promises to improve website rankings on search engines with minimal effort. Unfortunately, there is still some debate surrounding its efficacy. Some case studies have reported great success in the short term but with no reported long-term results. It has helped my websites tremendously.
On the flip side, some believe that Surfer SEO does work if implemented correctly and can be a powerful tool for improving rankings and overall website performance when used properly.
Ultimately, it's up to people to decide whether or not they see the value in using this tool and decide whether or not it is right for their own needs.
Some ranking factors Surfer SEO analyzes
One of the most important tools for assessing and improving a website's SEO performance is analyzing its ranking factors.
Surfer SEO provides an extensive analysis of a variety of these elements, including page speed and mobile-friendliness, content quality and quantity, link profile metrics, technical aspects such as schema markup and tags, user experience signals like bounce rate or time on page, as well as reporting features for simple tracking of progress.
All in all, Surfer SEO provides comprehensive data to help websites rank higher on search engines.
Surfer SEO Content Planner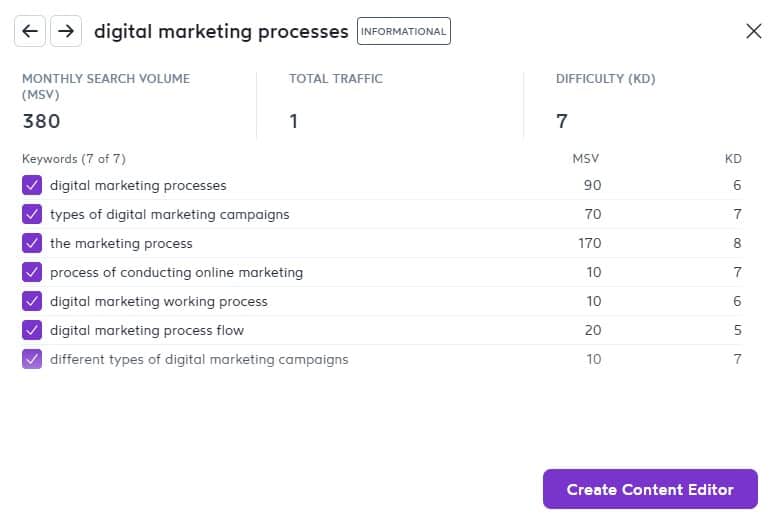 With the Surfer SEO Content Planner, creating a well-thought-out SEO content plan is easier than ever. Find what topics your competitors are covering, accurately analyze their rankings and optimize the content for those keywords that can give you an edge in SERPs.
This comprehensive online tool allows you to quickly find potential opportunities for increased rankings seed keywords, and make data-driven decisions about which keywords to target. By providing valuable insights into your competition and helping you find the best keyword opportunities for your target audience.
Surfer's Content Planner is an essential part of every successful search engine optimization strategy.
Surfer SEO-free tools
Ai outline generator
The Ai Outline Generator provided by Surfer SEO is a fantastic free tool for anyone looking to efficiently organize their writing and clarify their ideas. This convenient tool simplifies the daunting task of creating outlines, helping aspiring writers ensure their material is error-free, structured correctly, and easy to follow.
It uses AI-driven algorithms to objectively analyze all the discrepancies within a piece of writing, making the correction and revising processes much easier.
With this powerful tool at your disposal, you can save yourself plenty of time, energy, and frustration as you refine your work for submission.
Whether it's an article for a blog or a longer essay for school, Ai Outline Generator can help make sure that your words are up to par with professional standards.
Keyword Surfer extension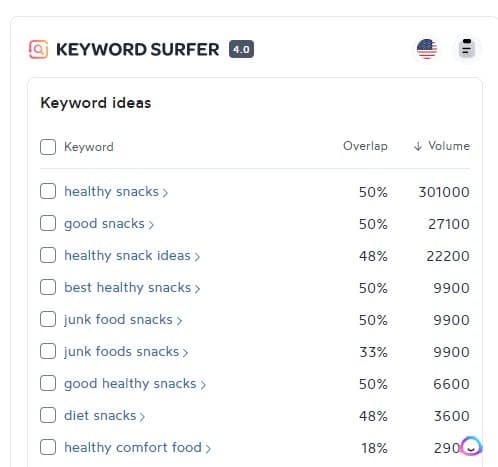 Keyword Surfer is a unique Google Chrome extension that helps to develop meaningful and relevant keywords in no time. It works by analyzing your website content and providing you with real-time search volume data based on the words used in your content.
This proves to be extremely beneficial for the success of your online business, as it allows you to make sure that your website is optimized to reach audiences through various relevant keywords.
With a few clicks of a button, this extension can give you information on the approximate number of searches any particular word gets monthly as well as options for related words that might also be useful for you to use.
As such, this free keyword tool has become an invaluable resource for digital marketers and SEO professionals who are looking for other tools to improve their ranking with the keywords they use to target potential customers.
How can the Surfer SEO tool know all of that?
The Surfer SEO tool is an incredibly powerful tool that can provide detailed insights into any user's website. Leveraging a combination of proprietary algorithms and big data analysis, the tool can provide real-time feedback on keyword performance as well as competitor rankings.
By continuously collecting fresh data from all over the web, Surfer can help users identify gaps in their SEO strategy and better understand where improvements need to be made.
The technology powering the tool is extensive and sophisticated, allowing it to quickly collect, process and analyze enormous amounts of data.
Interface And User Experience
Surfer SEO Interface And User Experience are unprecedented in the SEO industry. Boasting an additional layer of customization and control, users now have the power to always stay ahead of their competition with an easy-to-understand dashboard that presents data in a simple yet insightful way.
Utilizing powerful AI algorithms, Surfer highlights where competitors are falling short and makes optimization recommendations that are guaranteed to increase rankings.
Users can quickly make decisions about backlinks, placement for keywords, content optimization, and other optimizations that take SEO knowledge out of the equation.
By doing so, users will experience a more efficient and powerful system when it comes to Search Engine Optimization.
1 Click On-Page SEO Audits
Surfer SEO 1 Click On-Page SEO Audits is an intuitive and efficient solution for website owners who want to boost their search engine optimization. This innovative tool streamlines the process of optimizing a website's content with modern algorithms that analyze organic competitors and provide on-page optimization recommendations in real-time.
Not only does it offer a deep understanding of the main elements influencing SERP positions, but also provides users with an easy-to-use interface allowing them to map out the best strategy and make quick changes to better rank on Google.
With such absolute control over the optimization process, anyone can benefit from SurferSEO's cutting-edge technology for all types of websites.
Plagiarism Checker
Surfer has a built-in plagiarism checker that allows you to scan your content once you're done to verify that it is plagiarism free.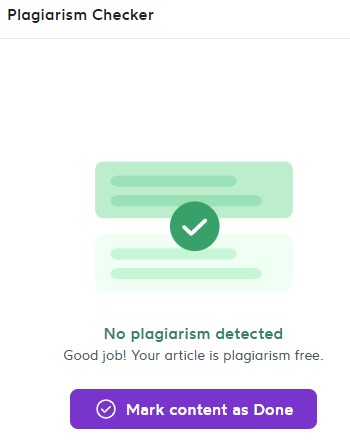 Tutorial: Optimizing content with Surfer SEO
Understanding SEO is an important part of successful content creation. Surfer SEO offers users the chance to easily optimize their content using comprehensive analysis features and intuitive data visualization tools.
Through Surfer SEO, users can quickly identify what works for most sites with similar content and get an understanding of what needs to be tweaked or improved to outrank their competitors in search engine results.
With its user-friendly design, even non-experts can take advantage of this powerful tool, giving them insight into their content strategies for more effective and successful marketing.
Surfer SEO Integration
Jasper ai
Surfer SEO Integration with Jasper Ai which makes creating seo optimized content much easier. Jasper ai is one of the best ai writing assistants on the market. It is my go-to ai writing tool. You can try Jasper ai out for FREE.
A great way to get started with Surfer SEO integration is by taking advantage of the intuitive interface for easy editing and access to advanced features. Additionally, the software helps users stay on top of algorithm updates with its Analytics Dashboard. By taking advantage of these features, business owners can make sure their web pages are up-to-date and competitively optimized.
Semrush
Semrush is a powerful SEO tool that has become invaluable for businesses looking to maximize their online presence. Using Semrush, businesses can easily integrate Surfer SEO into their efforts, allowing them to quickly see new opportunities and optimize existing content for better rankings.
It provides an array of features, from detailed keyword research and website auditing to link building and competitive analysis.
With its incredible range of tools, Semrush can significantly increase your chances of achieving higher search engine rankings and driving more organic traffic to your website.
Google Docs Integration
Surfer SEO is revolutionizing the way Google Docs is integrated into a business's or individual's web presence. Through an easy Google Docs integration, Surfer SEO unlocks a host of powerful features such as automated keyword analysis, competitor tracking, detailed audit reports, and much more!
With all these amazing tools working for you, not only is your company saving time and effort when optimizing its online visibility, but it can also improve its ranking in search engine results.
A bonus? Users are getting seen by the right people at the right time – increasing their website traffic exponentially!
With Surfer SEO's Google Docs integration feature, businesses have yet another competitive edge in their marketing arsenal.
Rank for multiple keywords within a blog post
With Surfer SEO, you can now gain your desired rankings without having to optimize any old posts. This revolutionary software utilizes artificial intelligence to write the perfect blog post that helps rank multiple keywords on a single page.
With just a few clicks, writers and marketers alike can not only optimize for specific keywords but also ensure optimal readability for readers. Its real-time results will help provide valuable insight into the most effective methods for boosting online visibility, displaying what works best and what needs to be adjusted to maximize a website's benefit from search engine results.
Page Optimizer Pro vs Surfer SEO
Page Optimizer Pro (POP) is a powerful SEO tool for website performance analysis that stands out from the competition by offering unique features. It identifies areas of improvement and provides tailored advice on how to increase webpages ranking. Additionally, its free content optimization report helps generate more organic traffic and higher search engine result pages (SERPs).
Surfer SEO is a good competitor of POP because it offers an extensive collection of resources that analyze site structure and content quality. Although Surfer SEO does not provide the same level of detailed feedback, users can count on it for an automated SERP monitoring system with features based on artificial intelligence.
For digital media experts serious about optimizing their websites, both POP and Surfer SEO are helpful in small and large-scale projects.
Surfer SEO Alternatives
Here are some of the alternatives to Surfer SEO:
Surfer SEO vs Frase IO
Surfer SEO and Frase IO offer two viable options for optimizing websites for top search engine rankings. Although both have the same end goal, their approaches are vastly different. Surfer SEO is a comprehensive platform that uses AI-driven data from top-ranking pages to help you glean insights into on-page optimization and content assessment.
On the other hand, Frase IO is an automated research assistant, built for modern SEOs to quickly improve keyword research and content optimization efforts.
Whether you're looking for basic keyword editing and optimization insight or advanced AI-driven analysis and keyword suggestions. Either Surfer SEO or Frase IO can help you increase website visibility while decreasing labor-intensive work.
Surfer SEO vs Clearscope
Surfer SEO and Clearscope offer two viable options for optimizing websites for top search engine rankings. Although both have the same end goal, their approaches are vastly different. Surfer SEO is a comprehensive platform that uses AI-driven data from top-ranking pages to help you glean insights into on-page optimization and content assessment.
Is Surfer SEO Worth It: My Verdict?
After evaluating the effectiveness and time input of Surfer SEO, I can say without a doubt that it's worth it. It took me some time to understand how their algorithm works and what factors drove my rankings, but after implementing the changes suggested by Surfer, I could see tangible results in my ranking.
Additionally, their platform is user-friendly enough for even inexperienced marketers to use. Even better – their tech support staff is amazing! They respond promptly and actively work towards resolving any outstanding issues you may have.
All-in-all, I'm very happy with the results of using Surfer SEO and would highly recommend it as an SEO tool for businesses both big and small.
Surfer SEO Review Conclusion
As you can see, Surfer SEO is a powerful and effective tool for optimizing your website and helping you achieve higher search engine rankings. It allows you to have a strong online presence by providing helpful data insights, easily trackable progress, and a rich variety of analysis options.
Plus, the platform is regularly updated with new features and improvements, so you can get the most out of every digital marketing campaign. If you're looking for an SEO solution that's easy to use yet reliable enough to generate impressive results, then Surfer SEO should be one of your top picks.
Now that we've discussed Surfer SEO review in-depth, it's time to evaluate its potential within your organization. Give it a try — after all, doing so won't take much effort on your part, and see how it can improve your website performance in no time!
Try Surfer's 7-day FREE trial!