Are you a content creator looking for an edge in the digital world? Are you someone who wants to write faster and better than ever before?
If so, Surfer SEO Content Editor is the perfect tool for you. It's a data-driven writing assistant that helps writers create compelling search-engine-optimized (SEO) content quickly and easily.
In our detailed review of this innovative, fast-growing platform, we'll take a look at all the features it has to offer from keyword analysis to text optimization – so your web pages will always perform their best!
What is the Surfer SEO Content Editor Tool?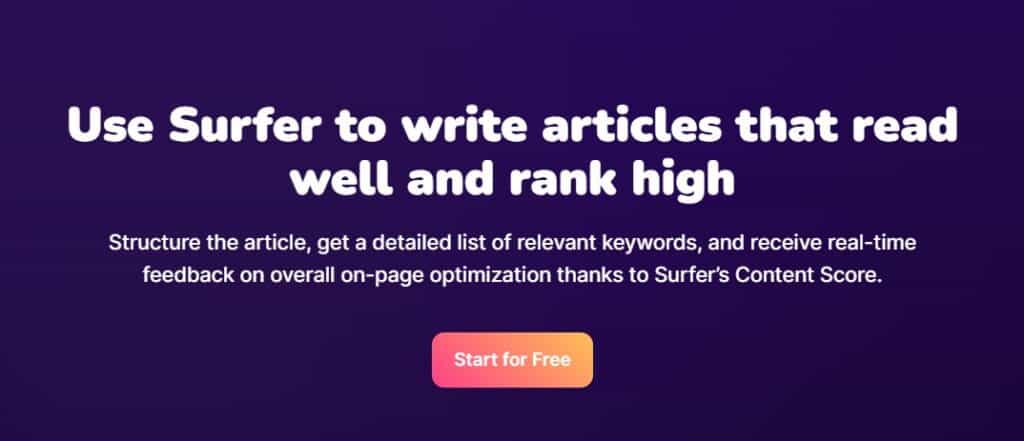 The Surfer SEO Content Editor Tool is an all-in-one website optimization platform that helps businesses and individuals improve their visibility on search engines like Google. It is the perfect tool for anyone looking to get an edge in content creation, as it can save time by performing keyword research tool, making suggestions for improvements, and providing helpful in-depth reviews of your existing content.
With the ability to integrate with top editing platforms like Google Docs, this powerful tool also provides you with alternatives to enhance your online presence. Allowing you to work more quickly and efficiently while generating better outcomes, it's easy to understand why Surfer SEO Review Content Editor has become such a popular choice amongst marketers and bloggers.
How does the Surfer SEO content editor optimize blog posts?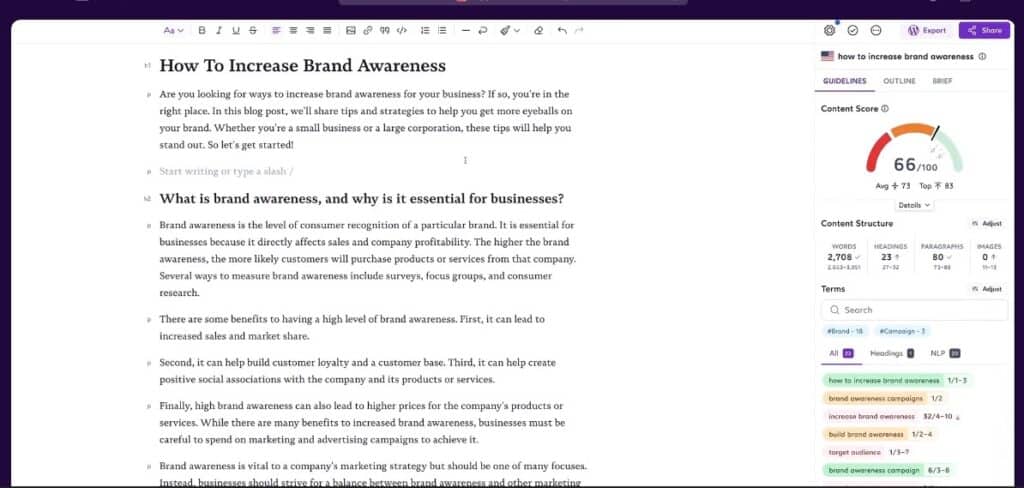 The Surfer SEO content editor is a powerful tool to help optimize blog posts. It uses an array of SEO tools – such as a keyword explorer, SERP analyzer, and keyword density analyzer – to streamline the process of creating content that is highly optimized for search engine results pages.
By leveraging these SEO tools, bloggers can save time and maximize their organic reach. Moreover, by employing Surfer's SERP elements from other leading websites in the industry, bloggers can create blog posts that rank higher and appeal to more readers.
In short, Surfer SEO allows bloggers to generate quality content quickly and efficiently for maximum visibility on the web.
How to use the Surfer SEO content editor tool
The Surfer Content Editor tool is an incredibly useful SEO resource. It provides a comprehensive analysis of SERP results and helps users to create content that has a leg up on the competition.
Using this same content optimization tool, users can easily identify related keywords in their niche, validate those ideas with real data and refine their content before publishing it. With the help of this search engine optimization tool, users can optimize existing content by reworking it with the recommended phrases, or they can start from scratch and craft new engaging materials based on the findings of Surfer's content editor tool.
Enter Your Target Keyword and Location Settings
Surfer SEO's content editor tool offers a wide range of options for those looking to increase their website traffic. To access these tools, all you have to do is enter your target keyword and location settings. This will allow the program to find all relevant data related to the keyword that falls within the set parameter.
After entering this information, users can then quickly analyze in-depth metrics such as LSI keywords, TF-IDF, local SERP features, SERP competition analytics, and much more to evaluate organic ranking performance. With this data at hand, you can easily create targeted content guaranteed to draw an audience and boost your search engine rankings!
Create an Outline
Developing an outline when approaching your SEO content can help ensure effective performance. An SEO outline allows you to organize your SEO efforts for both readers and search engines so that no detail is overlooked. It also helps to create a structured document that is easier to review and share.
Start by brainstorming topics related to the material you're developing, then build the structure around those topics. Use clear and concise headers, complete with bulleted lists of keyword phrases and supporting text detailing concepts associated with those topics.
This strategy makes it much easier for search engines to follow your content structure, which translates into better rankings for individual pages.
An outline also simplifies the process of reading through your work, helping visitors quickly hone in on what meets their needs.
In a word: Outlining your content is essential for creating a better experience – and higher rankings – for all involved.
Outline Builder
The Surfer SEO Outline Builder is a great tool for creating competitive SEO outlines. It helps marketers quickly create effective outlines to leverage their content production. It provides powerful algorithms to discover keyword correlations and competitive insights, giving content creators the ability to maximize exposure and rankings.
How to optimize content
Content score
The key to optimizing your content in Surfer is achieving a high content score. Content scores are derived from an algorithm that rates the SEO relevance of the text, layout, and images of each web page. It also takes into account user experience factors like loading time and mobile optimization.
To achieve a good content score, it's important to write headlines with keywords relevant to the topic, add appropriate subheadings to break up the text, and use multimedia elements while adhering to Surfer's guidelines for quality images, videos, and audio recordings. Satisfying these criteria will result in higher visibility for your content on search engine results pages.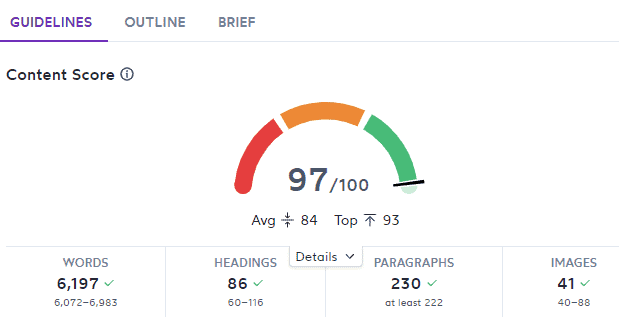 Content Structure
Having proper content structure is essential when it comes to optimizing content in Surfer. By breaking the text up into clear, easily digestible chunks and paying attention to headline hierarchy, readers will be able to make sense of the information more quickly and effectively. Strategically organizing your material also makes it easier for search engine robots to crawl your website and index the contents.
To this end, when structuring content in Surfer, it is helpful to use shorter sentences and paragraphs as well as a good selection of sub-headers or visual cues such as images or videos.
Doing so will not only improve readability but also significantly boost user engagement on the page. Thus, with proper planning and execution, you can easily achieve great results by optimizing your content in Surfer.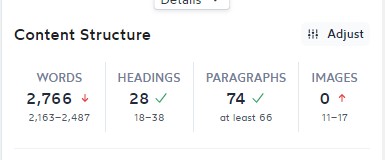 Words
The most important part of the process involves the number of words used in the content, as certain lengths are seen as more desirable by search engines for optimization purposes.
By using the data gathered from Surfer SEO, businesses can build quality content that is suited specifically to help them reach the top of the search engine rankings.
Headings Paragraph
Structuring your content with headings can be one of the most powerful tools for Surfer SEO to help maximize its online presence. Headings not only provide structure throughout the content but also allows search engine bots to easily scan and index pages, providing more accurately aligned search results.
Headings are also beneficial in terms of SEO rankings on-page optimization, as they offer crucial context to help determine appropriate page ranking. Additionally, useful headings help break up walls of text, making it easier for readers to read and focus on particular points.
Images
Surfer gives you a recommendation on how many images to use in your articles. These image recommendations are based on the images from the articles that are ranking for that keyword.
Terms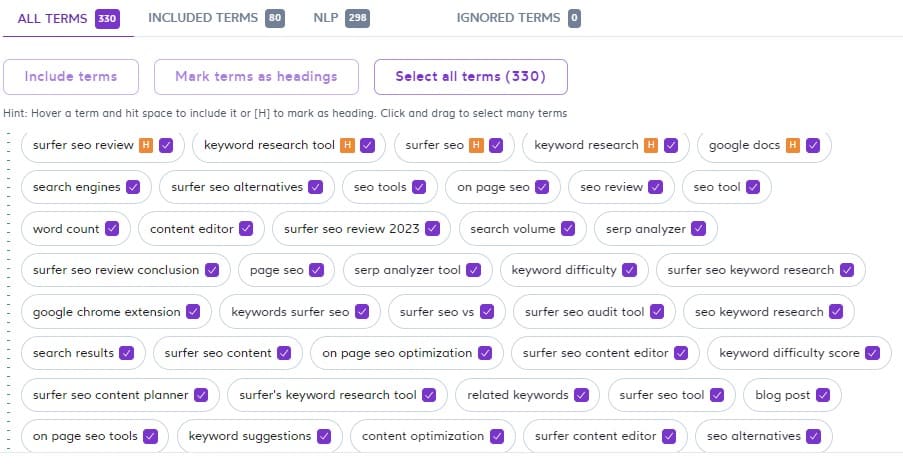 If you're looking to optimize your website for search engine ranking, then getting familiar with surfer SEO terms can be an invaluable help. Surfer SEO is a suite of advanced evaluations and suggestions, designed to give you the upper hand while improving your website's rankings.
With this data, you'll be able to understand what competitors are doing right (and wrong), how to improve key elements of your pages, and most importantly how to find the best keywords that will generate the maximum amount of organic traffic.
In short, using Surfer SEO will recommend terms to use in your article.
Can I Exceed the Headings and Paragraphs Range?
SEO tools like Surfer SEO can be hugely beneficial for digital marketers, as they provide accurate and up-to-date data that can be used to improve the rankings of websites.
However, it's essential to understand how much content to add and how many headings and paragraphs are recommended.
To maximize the impact of Surfer SEO optimization, it is important to adhere to the suggested range provided by the tool. Whilst you may feel tempted to try and exceed these parameters in a bid to further boost your rankings, this could hurt your website more than help it.
Overstuffing headings or adding too many paragraphs suggests superfluous content which can result in penalties from search engines.
Therefore when using a tool such as Surfer SEO be sure you don't go over their recommended range and instead stick to what works best for your website.
Why does it seem hard to use Surfer content editor?
It's no wonder why some people find Surfer's content editor a bit difficult to use – it packs a lot of advanced features into one compact platform!
From SEO suggestion tools and phrase replacements to checking originality and reading metrics, Surfer makes data-driven content writing easier than ever before.
That is why I created several videos to help make the process easier. I show you the process that I use to get a high content score.
Surfer Content Editor: LSI Keywords
LSI (Latent Semantic Indexing) keywords are an incredibly useful tool for SEO content editors. SEO writers often use them to draw visitors to their website or blog by developing texts with words and phrases related to the main topic.
By increasing the richness of a text through LSI keywords, SEO content editors can ensure their work isn't simply limited to search engine-specific keywords but rather has value for readers as well.
To that end, properly using LSI Keywords allows SEO content editors to optimize their work while still creating engaging, informative content that helps build relationships with readers.
What is NLP
NLP (or Natural Language Processing) is a field of Artificial Intelligence that focuses on teaching machines/computers how to understand, interpret, and generate human language. By employing machine learning algorithms and techniques such as statistical modeling, computational linguistics, and deep learning models, NLP can be used for applications like text classification (e.g. sentiment analysis), machine translation, or chatbot development.
This technology continues to evolve as developers seek ways to make it more accurate, efficient, and powerful.
Ultimately, its goal is to empower computers to comprehend language in the same way humans do so they can interact with each other using natural language communication.
Editing and Proofreading Your Work
Editing and proofreading your SEO work is a crucial final step that can make the difference between a successful website and one that never gains traction.
Not only should you double-check for grammar and spelling errors, test all links to make sure they're working properly, and make sure that content flows as intended; but you should also review the accuracy of any data or facts used.
Surfer SEO can be an extremely helpful tool in this regard as it can help ensure optimization on target keywords are up to date with standardized practices across major search engines for maximum visibility.
When done effectively, users will be able to better find your website and engage with its contents more easily!
Send the Content Editor Link to Your Writer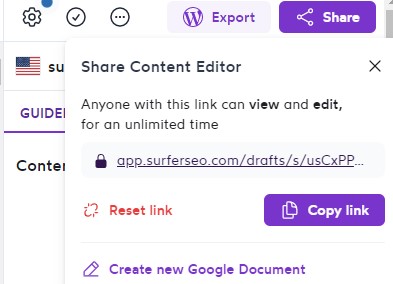 Content writers need to know the ins and outs of SEO practices so that their work will be properly optimized for search engine success.
By utilizing Surfer SEO, editors can quickly share a link with their writers that outlines exactly how to optimize the text for keywords.
This will ensure that all written pieces are up-to-date with the latest trends and guidelines in SEO, as well as boost rankings and drive more audience engagement.
Surfer content editor also provides insights to improve each step of the process when writing content, preparing it for publication, and tracking its overall performance. With this tool, content creators have an edge in bringing high-quality material to their readers.
Surfer SEO Keyword Research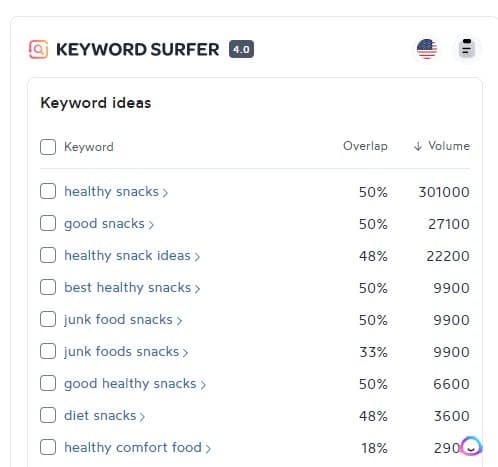 For any serious blogger or website owner, keyword research is an extremely important tool if you are looking to increase web traffic. There are some fantastic options out there such as keyword Surfer, which allows a user to quickly and easily identify potential keywords that match the content they are creating.
With Surfer's content editor, it is simple to discern what keywords people are searching for and optimize your website/blog post accordingly. Additionally, this platform accounts for top-ranking competitors when predicting search volume and also enables users to localize their results so they can adjust their strategy according to the target audience's culture.
Ultimately, implementing a comprehensive keyword research strategy with Surfer SEO can drastically boost traffic levels on your site and on page seo.
Surfer SEO Intergration
Jasper ai
Surfer SEO integration with Jasper ai provides digital marketers with the ability to harness powerful AI technology to make their search engine optimization process more efficient and effective. By using Jasper ai you can create seo optimized content fast.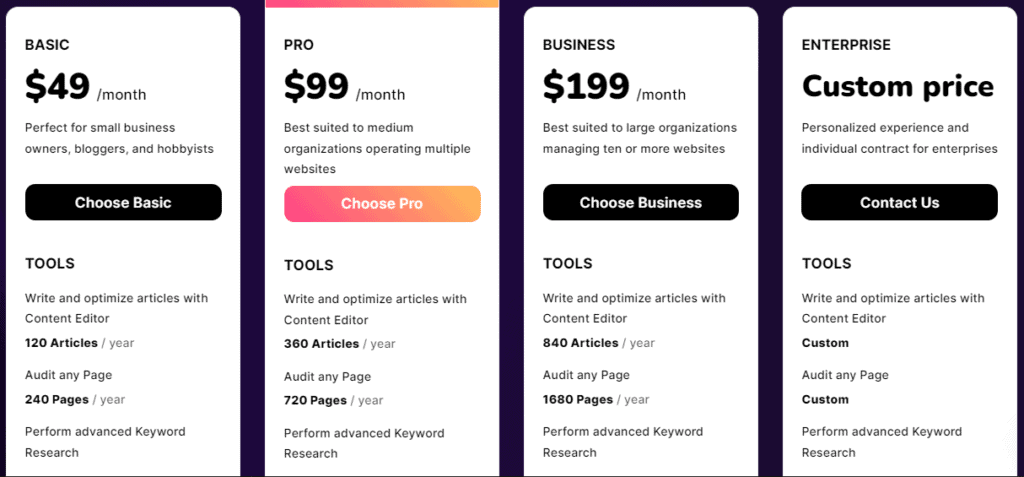 Surfer's basic plan starts at $59 per month and $49 annually.
Looking for a cost-effective way to boost your business's online presence? Look no further than Surfer SEO's Basic Plan! With pricing that's tough to beat and no hidden costs, this plan is perfect for smaller businesses just starting out.
Stay ahead of the competition with up-to-date trends and strategies in the world of SEO, all while keeping your bank account happy. Trust us, there's no better way to get your website off the ground and start making waves than with Surfer SEO's Basic Plan.
Are Images Important in Surfer SEO Content Editor?
Images are among the most important pieces of content on a website and the same holds when using the Surfer Content Editor. Having compelling imagery helps to draw readers in, visually illustrate points, and keep eyes and attention focused on specific sections of content.
Images also give writers more opportunities to rank for related keywords and topics that may otherwise not appear in the text. Because SEO is largely about being visible in search engine results, investing in top-notch graphical assets can make a huge difference in how quickly your website climbs to the top of SERPs.
What is the Recommended Content Score?
If you've ever wondered how to assess the quality of content, here's the lowdown! A scoring system of 0-100 is used with a range of warnings and indicators.
For instance, if you receive a score of 0-33, it's time to reassess your content as it is deemed irrelevant or low-quality. On the flip side, a score of 67-100 is the sweet spot as it represents optimum quality and relevance.
Remember, quality and relevance are key factors for valuable and engaging content that audiences crave.
How does the Surfer SEO content editor know the right word count?
Knowing the right word count for each piece of content is a crucial part of content creation, and Surfer SEO provides an invaluable tool to help determine this. Their editor automatically scans text, calculates readability and density vectors, compares it to an average benchmark created from thousands of similar texts, and estimates an ideal word count for the most effective SEO optimization.
This estimation process grants users valuable insight into how much longer or shorter their word count should be to fully optimize its SEO potential, no matter the topic or industry.
Surfer SEO alternatives
Page Optimizer Pro, Frase io, and Clearscope are three alternatives that you might want to consider.
Don't forget to check out my full Surfer seo review. Here are 10 of the best writing software tools to consider.
Surfer SEO Content Editor Conclusion
In conclusion, Surfer Content Editor is a powerful tool that every content creator should consider adding to their suite of resources. It provides valuable insight into the content quality and optimization potential, helping you tailor your articles like a pro.
Not only does it craft engaging summaries with on-page insights for readers, but also uses advanced AI technology to score the article based on several factors.
As a result, newly created pieces of content can be improved drastically without needing extra time or effort. Therefore, you can confidently deliver the best possible content to your readers and enjoy higher rankings in search engine results.
Lastly, Surfer SEO Content Editor makes sure that the efforts spent on writing articles don't go unnoticed – delivering organic online success backed by precise data from real SERPs.
Try it out for a Surfer's 7-day free trial.