WordHero ai is changing the game for writers, entrepreneurs, and bloggers alike. If you're looking to take your writing or blogging to the next level in a matter of minutes. WordHero has got you covered from wherever you work.
In this blog post, we will explore WordHero pricing plans so that you can make an informed decision about which one is best for your needs. With all these great options out there, it's no wonder why people are turning to WordHero as their go-to ai writing assistant for content creation!
If you are short on time, check out WordHero's lifetime deal.
What are the different WordHero Pricing Plans?
WordHero is an AI writing tool that helps to improve content writing quality and efficiency. As part of its features, WordHero offers three distinct pricing plans that offer users different levels of access. Depending on their needs, users can choose between the Lite, Pro, and Premium packages, each tailored to their requirements.
WordHero pricing: Pro monthly and Pro Yearly. They also have two lifetime deal plans. The lifetime starter plan and the lifetime pro plan.
WordHero Pricing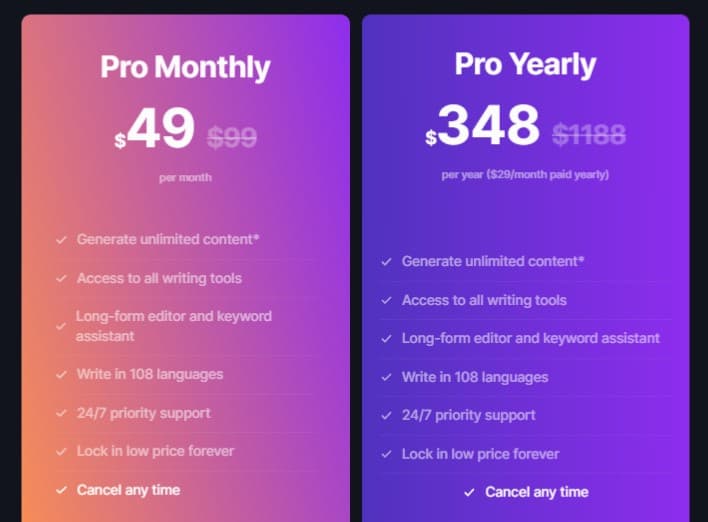 Pro Monthly Plan
The WordHero Monthly Plan is a must-have for any content creator, offering limitless content creation capabilities and access to over 25 AI-powered writing tools. With this subscription, users can compose content in more than 108 languages, with long-form editor & keyword support, and generate unlimited content.
This plan also includes SEO description tools and social media post ideas that are sure to make your content stand out. Never worry about running out of ideas again; using WordHero gives you a wide range of subject ideas and the ability to produce engaging blog articles.
Take advantage of the exclusive value provided by this monthly plan – it's only $49 per month with the option to lock in low costs permanently and cancel at any time.
Pro Yearly Plan
WordHero's Yearly Plan ($348/Yr) is the perfect way to access premium features and benefits on a budget. At just $29 per month, this plan provides social media posts, social media managers, and an SEO description tool all for one low price that won't increase anytime soon.
Not only that, but WordHero even offers a 14-day money-back guarantee with their AI writing tool which comes in extremely handy when testing something new strategy out. Don't miss out on this opportunity to have access to top-tier future writing tools and assistance; sign up now before the price increases!
WordHero Lifetime Deal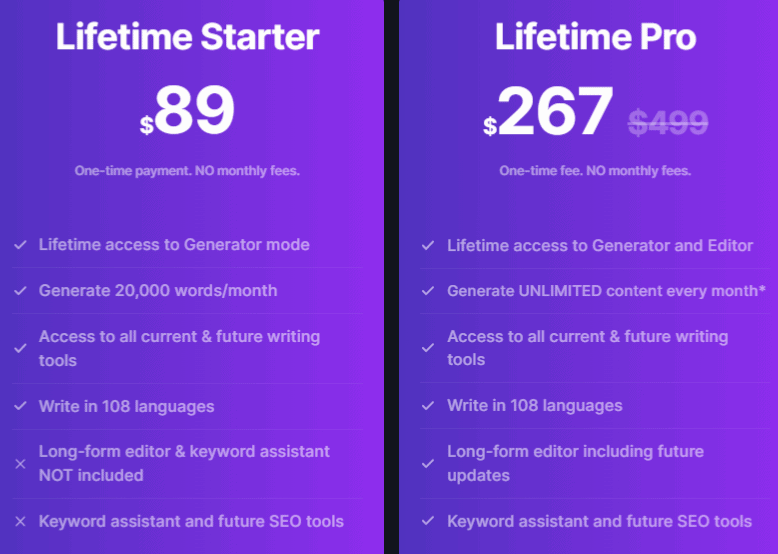 WordHero AI writing tool makes creating stellar social media captions and other content easy. Not only does it free up valuable time and improve engagement with posts, but the lifetime deal also allows you to benefit from the development of any new writing tools in the future. If you're looking for ai writing tools as an efficient and reliable way to create high-quality content, you should consider investing in WordHero's lifetime deal.
Lifetime Starter
Lifetime Starter is the perfect plan for those who are looking for a one-time investment without having to worry about any monthly payments. With this plan, you get a ticket to generator mode that is good for life and includes access to over 100 languages.
Plus, you get to also generate content of up to 20,000 words per month! Best of all, you get access to every existing and future writing tool – although the long-form content editor and keyword assistant are not included in this lifetime starter offer.
If that's all you need, then this amazing lifetime plan may be just right for you!
Lifetime Pro
If you're looking for a comprehensive writing package that covers all your needs, look no further than Lifetime Pro. Not only does it give you access to the best tools and editor available, but it also comes with an unprecedented offer of a one-time fee with NO monthly payments!
This incredible price of $269 gives you unlimited articles each month, a lifetime ticket to the generator and editor, and full access to every existing and future writing tool. You'll be able to write in more than 108 languages while taking advantage generate ai content of features such as the long-form post editor which includes future updates and the ever-helpful keyword assistant & other SEO tools.
Investing in Lifetime Pro will ensure that your writing experience reaches new heights! This is the plan that I use for sales copy and landing pages.
WordHero is a lifetime deal worth considering, especially for those interested in creating high-quality blog articles and other writing materials. The app offers innovative, future-oriented writing tools powered by machine learning to quickly produce content tailored to your needs.
The lifetime subscription allows access to all of the features provided as well as unlimited storage space, making WordHero an optimal choice compared to its competitors.
With lifetime deals such as WordHero, writers can spend less time worrying about the tools they use and more time focusing on perfecting their work.
WordHero Writing Tools (WordHero Templates)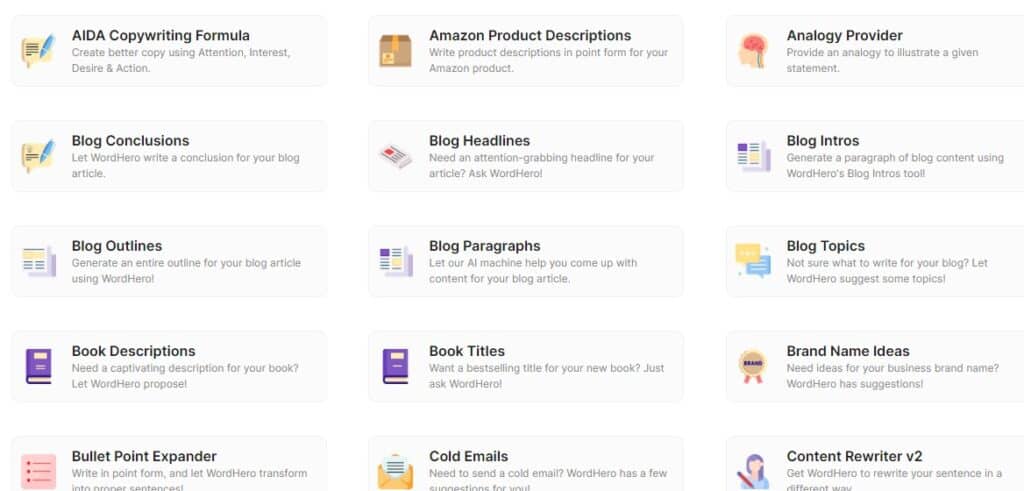 Writing can be a daunting task, especially when producing an essay or project, but creating with WordHero Templates is easy and enjoyable. WordHero tools save time by helping you get to the heart of your ideas and organize them quickly into crisp, clear writing.
These sophisticated templates model industry-standard, best practices while providing expert direction every step of the way. Whether you are working on blog posts or other written works such as reports or academic papers.
WordHero gives you the resources you need to turn complex thoughts into organized and well-crafted pieces of writing that inspire action and impress readers.
WordHero Templates
Operating from a template can be one of the most efficient ways to get your writing done. With WordHero, you get to choose from a selection of over 50 templates that have been designed specifically for different types of writing.
You might decide on Amazon product listings for describing and promoting products, blog abstracts for summarising an article, SEO illustrations for improving search engine ranking, cover notes for summarizing content for readers, Facebook promotions for advertising through social media, and email tones to give the right message in your emails.
With this variety available at your disposal, you'll find it easier and more productive to write with WordHero.
Who Can Benefit From WordHero?
WordHero is an online tool that can help writers of all levels to become more proficient and confident—from casual bloggers to internet marketers. WordHero's vast array of helpful resources, reliable writing support, and comprehensive tips and tricks can assist anyone looking to improve their writing skills.
Whether you need help finding the right word or brushing up on grammar rules and style guides for ai writers, WordHero is there as a dependable aid with user-friendly features.
Is WordHero A Good AI Content Writing Tool?
WordHero is an AI-powered content writing tool with the promise of taking the hassle out of generating unique and relevant text for online content. Leveraging an ever-evolving natural language processing algorithm, WordHero claims to be able to generate paragraphs according to specific topics or instructions that sound like they were written by a human.
Is This AI Writing Assistant Worth It?
AI Writing Assistants have become increasingly popular lately, but is it worth investing in one? AI Writing Assistants can certainly produce more polished articles in a relatively short time. Here is my full WordHero review if you would like even more information.
WordHero long-form editor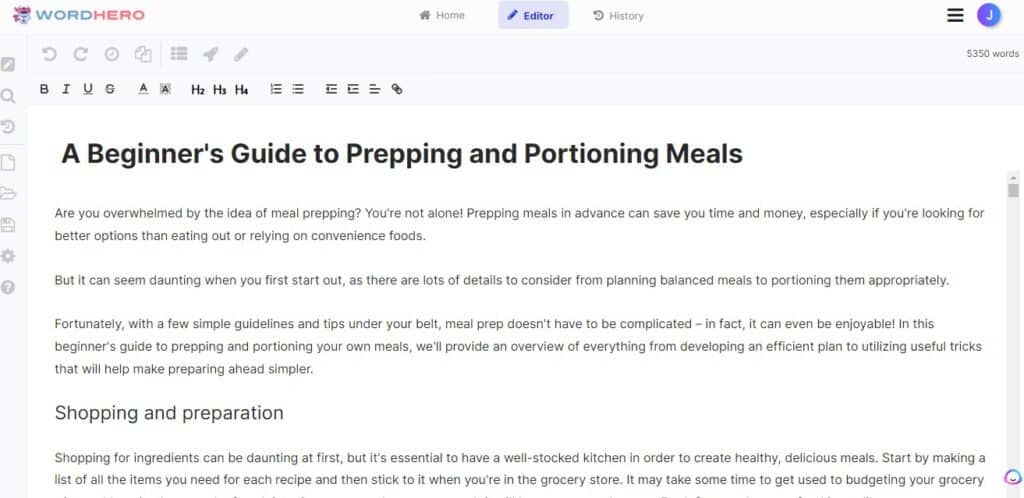 Creating content can often be a laborious and time-consuming process, but WordHero's long-form editor offers an elegant solution. Its cutting-edge features allow users to easily organize their ideas, fill in any holes in their thought process and produce polished content with speed and efficiency.
WordHero's long-form editor helps writers everywhere save time, write more compelling content, and take their projects from concept to completion without missing a beat.
Blog Outlines
If you're a writer looking for an easier way to churn out awesome blog posts, look no further than WordHero's long-form editor! Once your outline is complete, you can simplify everything with a few quick clicks and see your document in full context.
Furthermore, the long-form editor lets you quickly move elements around within the document so you can adjust and refine sections of your post with ease. Whether you're writing a compelling news story or crafting a hilarious listicle, WordHero provides the tools you need to get the job done quickly and efficiently.
WordHero Short Form Content Template
The WordHero Short Form Content Template is a perfect tool for those who are looking to create professional and engaging content in a short amount of time.
It offers plenty of options for users, such as the ability to curate content from various sources, tailor-made text templates for editing, and automated background checks on keywords.
With this template, users will be able to quickly create dynamic pieces of content and still ensure accuracy by using tables, step-by-step guides, and checklists that they can easily customize with their unique brand or industry insights.
This template can save time and simplify the process of creating valuable content without sacrificing creativity or originality.
Amazon Product Descriptions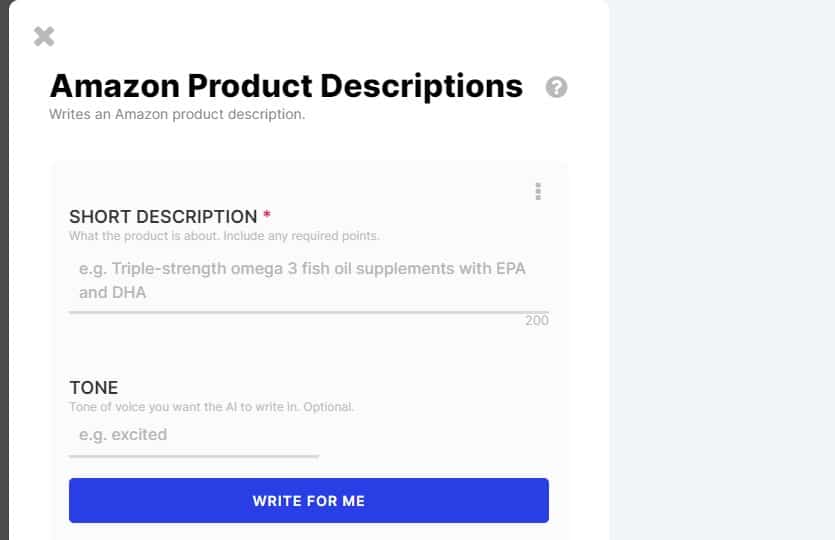 If you're an online seller or marketing professional looking for an efficient way to create Amazon product descriptions, then WordHero's Short Form Content Template is perfect for you. This template walks you through the process of making a brief description that serves as a powerful sales pitch in just minutes.
It provides essential tips on how to make sales copy on your product listing stand out, plus proven techniques to boost conversions and drive sales. Best yet, you can use the same templates again and again with different products, saving time and resources compared to writing from scratch each time.
So if you want an easy way to get great Amazon product descriptions, WordHero's template has got you covered.
Social Media templates
The WordHero Short Form Content Template is the tool that every social media manager has been waiting for. It puts the creative power of professional content writers into the hands of even the most novice user, allowing them to create engaging posts for their audiences in record time.
It includes fill-in-the-blank prompts and ready-made templates that allow users to pick from a wide range of topics, giving everyone from small businesses to international brands the ability to make social media ads showcase their products in the most compelling way possible.
With WordHero, your social media accounts are guaranteed to look more professional and be more effective than ever before!
User-Friendly Interface
WordHero is designed with a user-friendly interface in mind. It allows users to quickly get up and running, leveraging its intuitive features to master their writing skills. WordHero focuses on giving a straightforward experience that rapidly allows you to write without worrying about tedious technical configurations.
This ensures your time is spent solely on writing while feature-rich elements allow you to monitor overall progress and highlight areas of improvement. Whether you're a first-time user or an experienced pro, the WordHero platform provides comprehensive support that can help you improve your writing techniques for any task or project.
WordHero Supported Languages
WordHero is a great resource for writers of all kinds, and it's even more helpful now that it supports multiple languages. It has a total of 108 languages to choose from. Whether you're writing in French, Spanish, German, or Portuguese, WordHero can help you find the perfect phrase or expression.
Plus, you get automatic translations; when you enter a search term or phrase in one language, the results automatically appear in another language. It's kind of like having your globetrotting linguist at your fingertips!
Plus with the addition of support for multiple languages, now anyone around the world can take advantage of all the incredible tools and resources WordHero has to offer.
Alternatives To WordHero
Here are some of the alternatives to WorldHero
Jasper ai is one of the best ai writing assistant tools on the market. It has several features that WordHero does not but it is more expensive and has a word count. Jasper ai also offers Jasper Chat.
You can try Jasper ai for FREE.
WordHero might get a lot of attention when it comes to online writing, but if you're looking for more affordable alternatives, Writesonic is worth considering. It's easy to navigate and provides excellent tools that can help improve your writing experience. Best of all, Writesonic has a wide variety of features you won't find in other writing platforms.
You can choose specific genres like fiction, poetry, or nonfiction to focus on. Plus, with its competitive pricing options and excellent customer service, Writesonic is truly a top-notch writing platform.
Blog Outlines
Few things are more time-consuming and mentally draining than struggling to come up with an outline for a blog post. That's why WordHero can be a great tool for bloggers, especially those running on tight deadlines.
With WordHero's automated approach to outlining blog intro, the process is speedy yet still thorough enough to build your post around. You'll be able to quickly plan out an article from scratch or adapt one of their pre-made outlines to better fit your individual needs.
So don't put yourself in mental agony thinking of what points you want to cover in your next post – let WordHero give you a head start!
How To Use WordHero AI
WordHero AI is a fantastic tool for writers looking to quickly create inspiring content. It uses artificial intelligence to help you write compelling sentences in seconds!
All you need to do is enter a prompt, and WordHero will generate multiple ideas for your next piece of writing. This way you can take creative risks and make the most out of your creativity in the shortest amount of time possible.
The possibilities are endless – from blog posts to tweets, to song lyrics and more, WordHero AI can help make your next project truly stand out. Give it a try today and level up your writing skill set!
Tones
WordHero AI Tones is a unique feature that lets users access an AI-powered assistant filled with a variety of sentences for different tones and emotions. It allows users to append relevant phrases to their content and make it more entertaining, this can be useful for creative writers or bloggers.
Users can even add intonations like sarcasm, enthusiasm, and insincerity in conversation posts by using the wizard provided.
The tones provided range from subtle to bold and will precisely convey the desired effect, allowing people to craft strong and engaging stories and create content with ease.
The AI assistant constantly collects new data from various sources which allows users to get creative and create something truly special that won't be found anywhere else online.
Good Output Quality
WordHero provides great quality that reads well. You can easily write high quality articles in minutes. The output is easily detectable by ai detection tools.
WordHero Customer Support
WordHero prides itself on providing its customers with an exceptional customer support experience. Their team of highly-trained professionals is available 24/7 to answer questions, provide technical assistance and troubleshoot any issues you may be facing.
Final Thoughts WordHero Pricing
WordHero is a great ai writing assistant that can create high quality content in minutes not hours, saving you time and money.
When it comes to pricing, they have several options. Their best option is the Lifetime Pro Plan where you get lifetime access to their content editor and unlimited generator for a one-time payment.
If you prefer to pay monthly then their Pro Yearly plan is a great option. It comes out to be $29 a month.
Either way, sign up now before prices go up.