Struggling with a competing workload and writer's block? AI-content generation tools can help you speed up your content production process, whether it be for blogging or marketing.
Enjoy the benefits of easier research and automated writing, increasing workflow efficiency without sacrificing article quality.
Discover more about these handy digital helpers so that you no longer have to worry about falling behind in today's highly competitive market!
Can ai writing help with blog post writing?
Yes, AI-based writing tools can help take the burden off of your shoulders. AI-driven content generation technologies use natural language processing to generate content that is both accurate and engaging.
These AI-crafted blog posts are unique enough for human readers but still consist of quality, reliable facts. AI also helps reduce research time by automatically searching for relevant data and using it to create accurate content. These tools can create an entire blog post in minutes. This makes the writing process fun.
But that's not all – AI-written blogs can also be tailored to suit the needs of your readers. Highly customized content means that you can increase reader engagement, as well as make sure each post offers useful insights and helpful advice.
Some ai writing tools have templates that allow you to write long form content with just a few clicks.
Benefits of using an AI text generator to build a scalable content strategy
Using AI-driven content generation tools is an excellent way to save time and resources. Automated writing eliminates the need for manual labor, freeing up your team's time to focus on more strategic projects. Plus, since most AI platforms are cloud-based, you can access them from anywhere in the world!
AI-generated content can help increase scalability and reach. For example, AI-driven content production can easily scale up or down depending on your needs, while also allowing you to target a wider audience with more diverse topics.
Ultimately, utilizing AI-written blog posts is one of the best ways to keep up with changing trends in digital marketing and write blog posts fast.
Examples of Content AI Can Write
Many AI-driven content generators have the capability to write blog posts, including topics like fashion, health, lifestyle, finance, and more. AI can also generate short informational pieces such as explanations and descriptions that are perfect for product pages or web pages.
Additionally, AI can craft engaging stories and help you create keyword-rich headlines to attract readers.
No matter what type of content you need, AI-driven content writing tools can help you create high-quality and reader-friendly pieces with ease. You don't have t worry about writer's block.
Here is an example of ai written content.
Advantages of ai content generation
AI tools are a great asset for content creation due to their efficiency and scalability. When faced with writer's block, the drafts generated by AI can provide starting points that save valuable time. Furthermore, these tools allow everyone – not just experts – to write quality pieces on unfamiliar topics – all while saving time and money! Human writing can be much more expensive.
Disadvantages of ai content generation
Using AI for content creation can be a double-edged sword. On one hand, these tools use data analysis and algorithms to understand what readers want in the output content – but on the other hand, without creativity or emotional elements involved, there is always a risk of Google devaluating it.
Plagiarism is also an inherent danger when using such automated platforms as they scrape information from existing sources and may even pass off rephrased articles as their own work! I have not had any issues with the ai writing tools that I use when it comes to plagiarism.
How does AI writing actually work?
AI-driven content generation tools use natural language processing (NLP) to generate content from scratch. NLP technology helps the (artificial intelligence) AI understand context and readability, allowing it to create content that is both accurate and engaging.
These AI-generated blogs can cover a variety of topics – from SEO trends to customer service best practices. Additionally, ai writing tools can also personalize content to suit the needs of your readers, increasing engagement and relevance.
Some examples of AI-generated blog posts include product reviews, explainer pieces, how-tos, case studies, opinion pieces, entire blog post articles, and more!
AI tools for blogging
Two of the best ai writing software tools for blogging are Jasper ai in combination with Surfer Seo. These tools give you the ability to write SEO-optimized content that reads well and ranks high in Google.
I use these tools every time I create long-form content for my websites. Here is a YouTube video I created exampling how to use both tools.
Surfer SEO offers a free blog outline generator tool.
Writing articles with AI can help you become a better writer
Ai can help you become a better writer because it saves time, and reach more people with quality content. With the right tools and a bit of practice, you can generate high-quality blog posts quickly and easily – leaving your readers impressed!
If you're looking to start using AI for content creation, I highly recommend giving Jasper Ai in combination with Surfer SEO a try. I am not the best at writing but these tools have helped me create high-quality content 10X faster.
These ai writer tools make it easy to create content.
Make your instructions crystal clear
You must provide clear instructions to the AI writing tool you are using. This will ensure that your output is accurate and relevant to your target audience. Include specific keywords, topics, and other details so the AI can generate content accordingly.
Ai writing assistants are here to help make your creative process run smoother! Utilize them as a supplement along the way, but remember: they won't do all of the work for you. You still need human writers to guide the tool.
Use the AI writer to write quality content for your blog
AI-generated blog posts can help you save time and energy. Plus, they can provide quality content for your readers to engage with. Take advantage of AI tools to produce compelling and comprehensive content that will captivate your audience!
Come up with content ideas in minutes without having to worry about writer's block.
Get rid of writer's block with AI writing tools
Whether you are an experienced writer or a novice, AI writing tools can help you eliminate writer's block and create quality content quickly. With the help of AI, you can take your blog to the next level with high-quality articles that will draw readers in. You can come up with blog ideas in minutes.
Generate Blog Outlines
Most of these ai writing software tools have templates that create specific content like blog post outlines. This can be incredibly helpful when you're in a rush and need to quickly write up an outline.
Tools like Surfer Seo create SEO-optimized blog post outlines in seconds.
Use the AI writer to create Blog outlines for your post
Creating blog outlines with AI-driven tools can save you valuable time and effort. The outline generated by the tool will be tailored specifically to your needs, giving you a head start in creating a well-structured, comprehensive article that meets all of your expectations.
Recommended AI Writing Tools
I have personally tested every one of the ai writing tools listed below. I have paid subscriptions to most of them. I used them regularly. Jasper ai is the best overall ai writing assistant on the market. Here is a list of the 10 best ai writing software tools on the market.
Jasper ai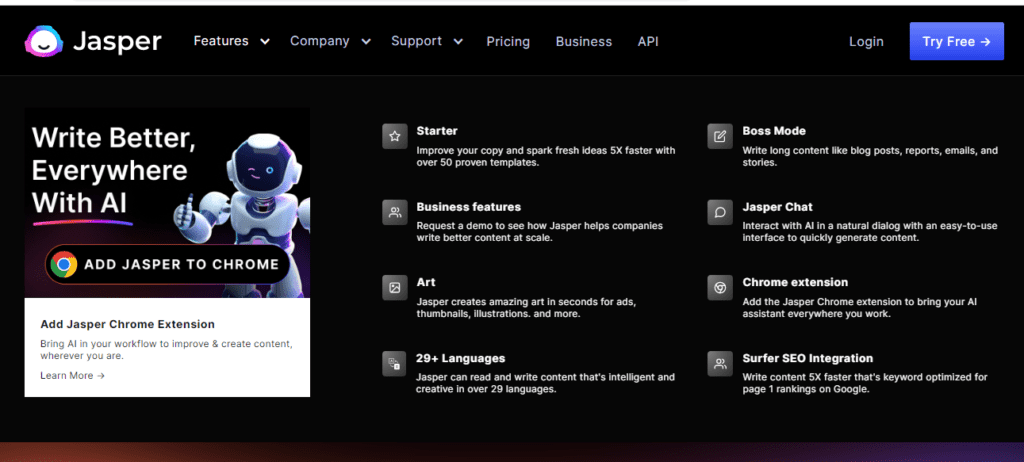 Creating engaging content can be a daunting and time-consuming task. But if you're looking for an all-inclusive solution, Jasper is a perfect choice!
This ai writing assistant software will have your creative juices flowing in no time – providing quality social media posts, blog articles, and long-form pieces with ease.
With one click of the button, it kicks off brainstorming ideas making creation quick but still producing top-notch output which saves users both energy and resources when creating to give their readers plenty of great stuff to enjoy.
Overview
Looking for a writing tool that will help you create high-quality content quickly, easily, and efficiently?
Jasper AI could be the solution! This cutting-edge artificial intelligence platform does more than just assist in perfecting your grammar — it offers 50+ templates to get started on top of auto-correction tools with smart text highlighting options.
What's best is its user-friendly interface holds all these features right at your fingertips – no fuss or tidying up required afterward!
Now you can write better copy faster without compromising quality. Try out Jasper ai today, and feel free to thank me later!
Highlights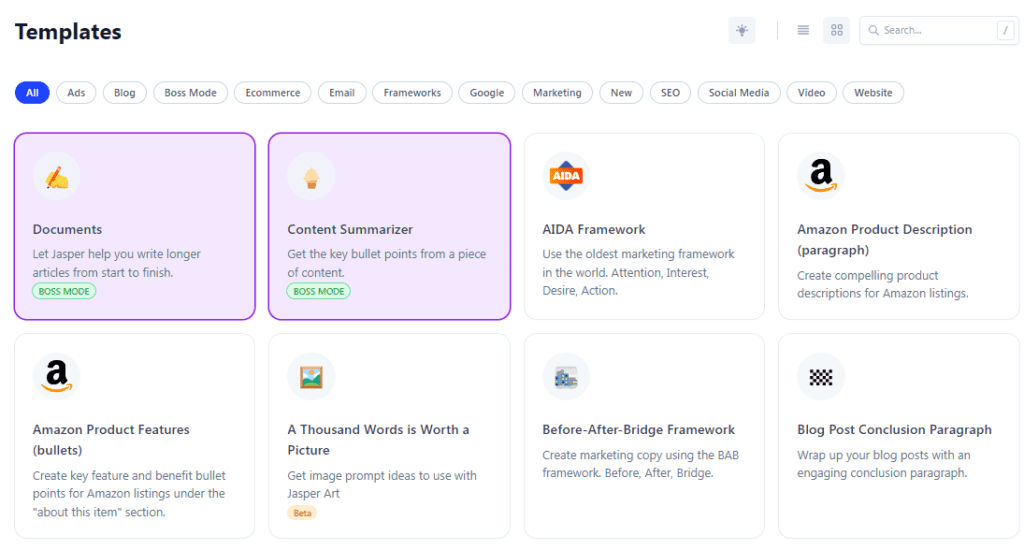 Jasper Ai is revolutionizing content creation with its AI-driven writing and editing tools.
Get an edge over your competition by automatically correcting text, offering synonym suggestions to perfect the copy faster, and eliminating grammar errors thanks to a handy built-in checker – all of this is made easier as its user-friendly interface ensures smooth navigation through helpful options and features!
With access to more than 50+ templates available alongside the Google Docs style editor, you can quickly generate long-form pieces such as blog posts or take advantage of Jasper Chat feature for instant feedback on your work – not forgetting Live chat support directly from their team that are here & ready at any time when needed.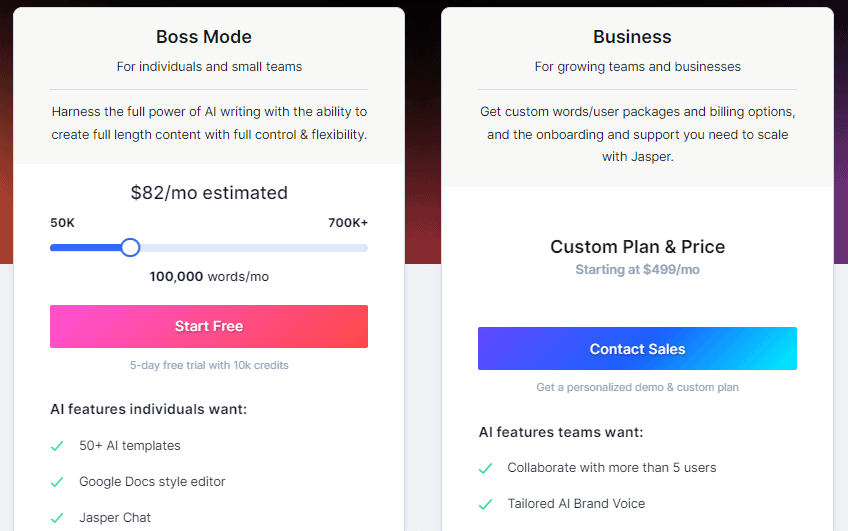 Currently, Jasper ai only offers two different plans, the Boss Mode and the Business Mode. With the Boss Mode, you can customize the word count and also pay annually if you like.
Boss Mode
Take your creativity to the next level with Boss Mode! Unlock a virtually endless library of content and get total control at an unbeatable price.
Whether you're working solo or in a team, this AI writing platform will help you make faster progress without breaking the bank. Reap amazing rewards from just 49 dollars per month when signing up for an annual plan – no commitment required if monthly is more your style (just 59 bucks)!
Bottom Line
Looking for a fast, simple, and reliable way to create quality content with ease? Look no further than Jasper AI – the world-renowned artificial intelligence writing tool.
From its intuitive interface and automated text highlighting to live chat support from experts at Jasper Ai, this platform has it all!
With over 50+ templates covering various fields ranging from business blogging to medical reports – you can produce compelling pieces of work in record time.
So if you're after an efficient solution that's light on your wallet too – then make sure not to miss out on what Jasper AI has to offer.
WordHero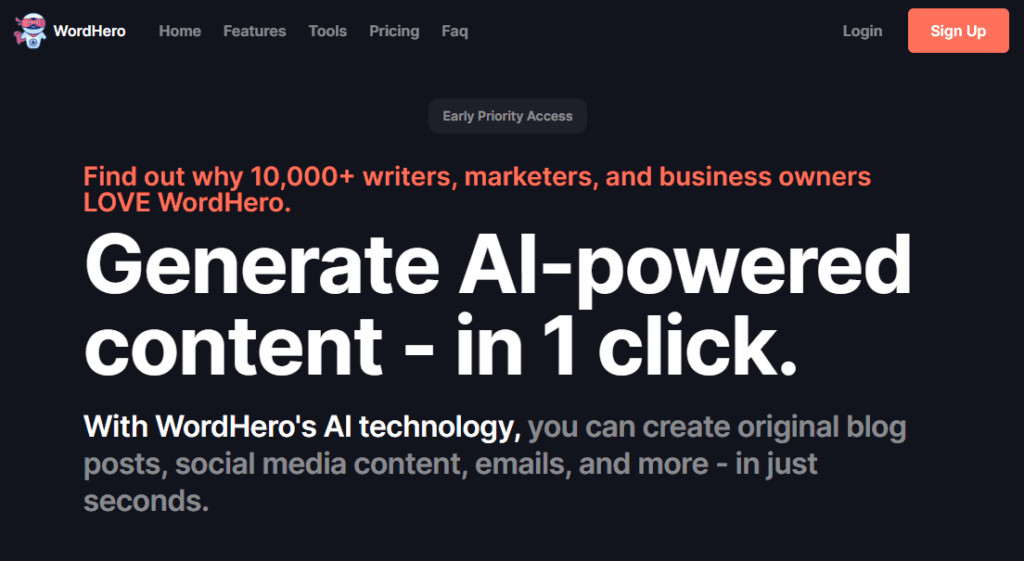 Say goodbye to endless hours of writer's block with WordHero! This cutting-edge ai writing software is the key to never running out of words – no matter how long your content needs to be.
With just one monthly payment, you can access its powerful tools and infinite possibilities that will help bring your projects up to another level.
It's time for Jasper – and its word count limitations – farewell; from now on it's all about having unlimited creative freedom thanks to WordHero!
Overview
Unleash your writing potential with WordHero! Using natural language processing and machine learning, this helpful tool will give you the words that best capture your ideas.
Write compelling content without spending hours – let its innovative technology work for you in no time at all!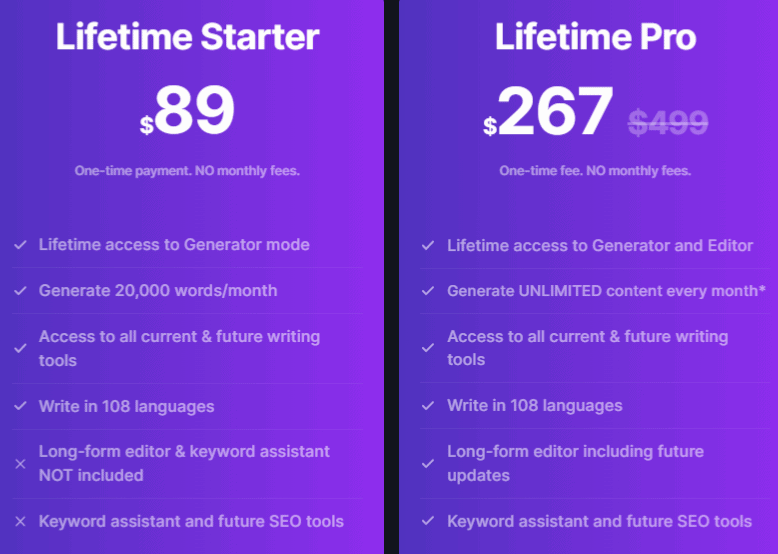 Get the best of both worlds with WordHero's lifetime deal! Whether you're crafting short-form messages like emails, steamy tweets, and captivating Google Ads or seeking to author longer-form masterpieces such as articles.
WordHero has a plan just right for you. And if that wasn't enough; upgrade your subscription to Pro, where creating content each month is absolutely limitless – no exceptions!
WordHero's regular pricing is $49 monthly and $348 if you pay yearly. You can also take advantage of their lifetime deal.
Bottom Line
Unleash your creative potential with WordHero and make every project shine!
Supercharge your productivity by taking advantage of their AI-powered editor, long-form editor, keyword assistant, and more – you'll be generating unlimited content in no time.
Visit the site today to see how much further WordHero can take you – plus check out their exclusive lifetime deals for even greater value!
Tap into a whole new level of creativity with WordHero now.
Writesonic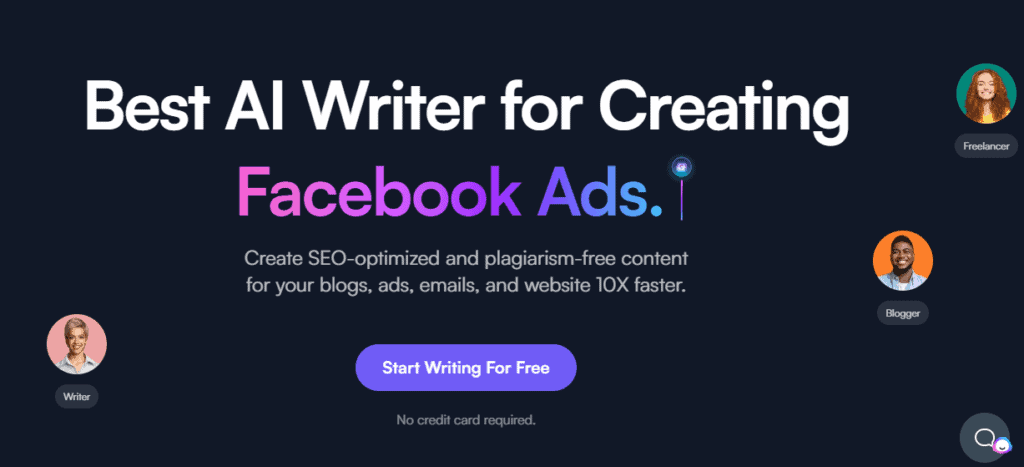 Writesonic offers a host of features to help you create content quickly and easily, without compromising quality. Powered by AI technology, it can detect spelling & grammar errors. Further customizations are available with the addition of headings, images, and more elements to enrich your text's structure.
Additionally, its SEO optimization feature ensures maximum visibility for search engines – freeing up time that would have been spent researching keywords or topics while still delivering high-quality output!
For those needing extra guidance getting started; Writesonc has an array of templates ready at hand too!
Overview
Unleash your inner creativity with Writesonic! This incredible content creation software makes it easy to generate high-quality text quickly and effortlessly.
With over 50 customizable templates for short-term or long-form copy, plus OpenAI's GPT-3 AI writing model at work in the background – all you need is a few details before pressing "Generate" to get started.
Stop handcrafting tedious pieces of content yourself – let Writsetonc do the hard work instead today!
Highlights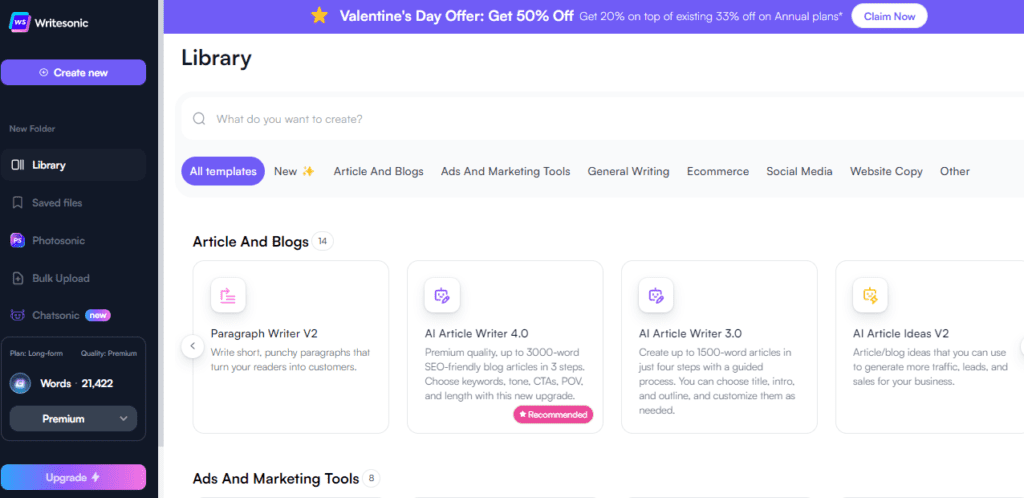 Need to level up your digital marketing approach? Look no further than general-purpose writing tools – perfect for polishing website copy, product descriptions, and captivating ads.
Get the creative edge by using features that are tailored just for you – whether it's an ad campaign or eCommerce store, these solutions can make sure your content stands out from the competition!
ChatSonic
Say hello to ChatSonic – the revolutionary AI writing tool that can help you create conversations with greater accuracy and efficiency. With advanced natural language processing and machine learning capabilities, it understands user questions quickly, providing accurate answers in a flash – making customer service speedy, easy, and satisfying for everyone!
Pricing
Trying to create high-quality content but don't know where to start? Look no further than Writesonic. Writing blog posts has never been easier with article writer 4.0.
They offer a free trial and different levels of quality, from Premium down to Economy for the budget-conscious writer.
If you want something tailored specifically for your needs there is also an option of their custom plan – contact the sales team directly if that's what appeals most! 19k words worth can be yours with just one click away.
Make it happen today so you won't miss out on this amazing opportunity!
Bottom Line
Writing got easier with Writesonic! Get a superb content creation experience powered by AI-based editing, plagiarism protection, and SEO optimization tools.
You don't have to break the bank too; get all these amazing features at an affordable price point – so why wait?
Start your journey today with one of the most valuable solutions in town – Writesonic!
Copy ai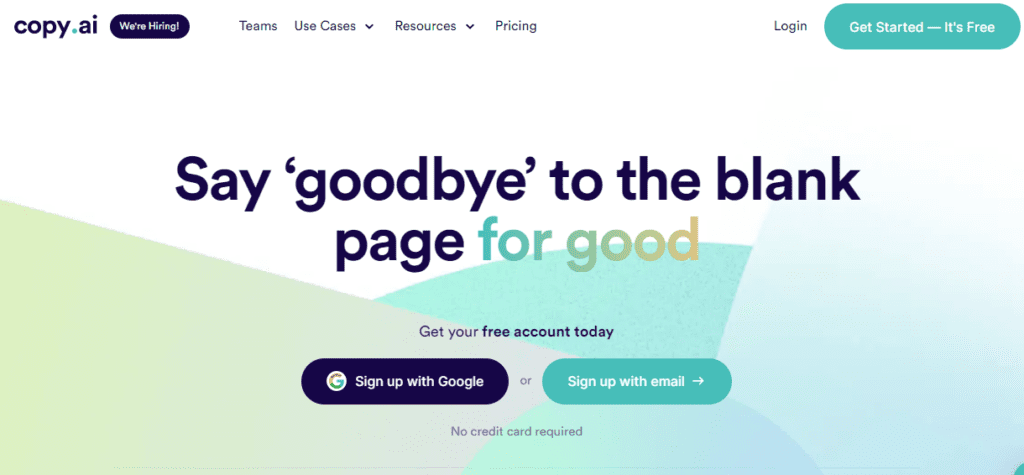 Unlock your inner wordsmith with Copy AI! This revolutionary writing solution combines GPT-3 technology, templates, editing tools, and grammar checkers, so you can create captivating content without the stress of writer's block.
No matter what project is on your plate today – let Copy AI help open up endless opportunities to express yourself in powerful ways.
Overview
With Copy AI, you can effortlessly generate quality content in multiple languages for any purpose.
Choose from over 90 templates to tailor your output according to the needs of emails or even turn into enjoyable projects!
And updates are constantly made with cutting-edge GPT technology so accuracy and consistency are always ensured.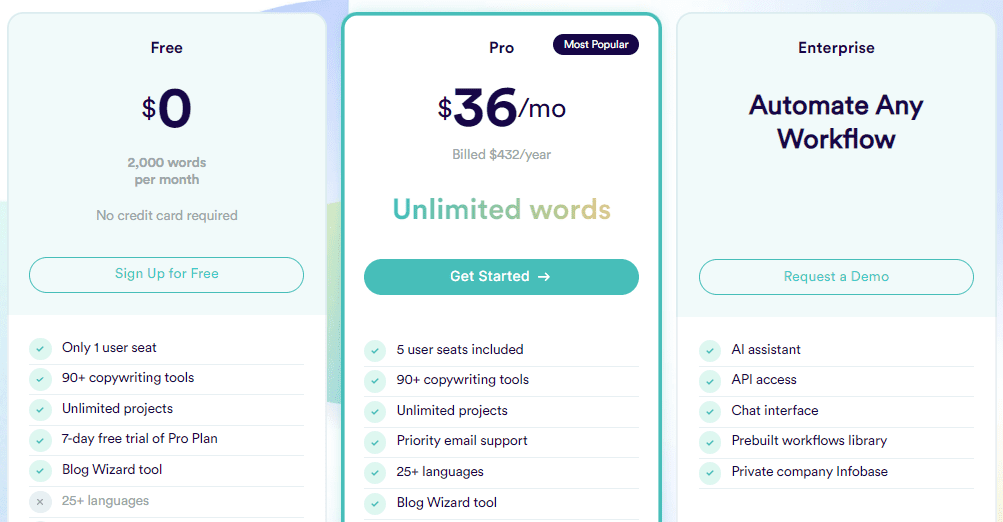 Can't seem to break through the wall of writer's block? Let Copy AI be your creative source!
With its Pro plan at an affordable $49/month, you can get outstanding quality content without breaking the bank.
And if it may not necessarily fit into your budget quite yet, don't worry—they offer a free 2,000-word option to help find out just what they have in store for you from day one.
Get writing today and see why so many are turning their projects over to Copy AI!
Bottom Line
With the rise of AI-generated content, it can be hard to know where to turn for a top-quality product.
Though Copy AI may not immediately appear as an option, there are plenty of reasons why you should consider this tool.
Not only will you receive magically crafted output – it also supports unique templates that many competitors don't offer!
Free Ai writing tools
HyperWrite
HyperWrite has a free monthly plan that gives you access to their templates, HyperChat every month without credit card information.
Writesonic
Unlock the power of AI writing with Writesonic – and get 6,250 words for free each month!
Start benefitting from improved accuracy, speedier workflow, and access to an array of features that help make content creation more intuitive.
With a completely no-cost trial period available each month, you can customize what works best for you.
Copy.ai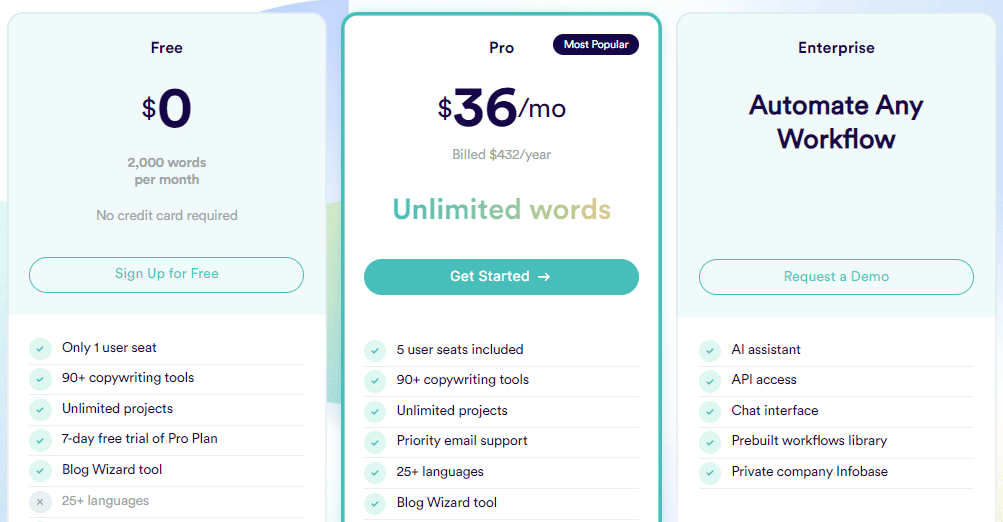 Get up to 2,000 words each month absolutely free! No credit card is required and get a 7-day pro plan trial – no strings attached. Enjoy great savings with our generous offer today!
Best Ai Writers for Seo Optimized Blog Posts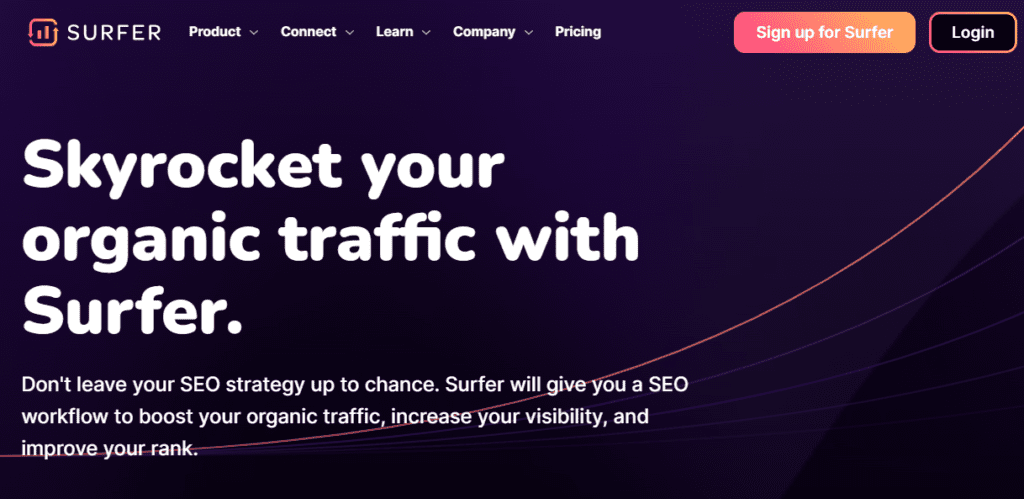 Surfer SEO is the ultimate game-changer for businesses looking to succeed in search engine optimization.
This cloud-based software suite provides users with powerful insights into keyword difficulty and SERP features, allowing them to take advantage of their competitor's strategies while creating a foolproof plan tailored specifically to gaining traffic and leads quickly.
Article Forge
Long-form content creation can be tedious and costly – but Article Forge has the answer.
Using more than a decade of groundbreaking AI research, it's an automated tool that quickly produces high-quality articles with just one click. No longer will you have to invest hours in writing 1,500+ words by yourself; with this revolutionary technology, any creative project is now easily achievable!
Pros of Relying on AI Content Writing
AI-generated content is often more accurate and relevant than human-written articles.
Saves time and eliminates the need for manual research.
Provides a high level of customization, allowing you to tailor your content to suit specific needs.
Produces error-free writing that can be seen in real-time.
4 steps to create an ai written blog post.
Here are the 4 steps to follow to create an ai written blog post in minutes and not hours.
Keyword Research
Start by researching the keywords you want to include in the blog post. Make sure the chosen words that are relevant and fit into your overall topic. These are the words you plan on targeting in search.
Title
Now it's time to generate a catchy title. Generate a few titles to choose from and pick the one that resonates most with your target audience.
Outline
You'll need to create an outline for your blog post. This will serve as a guide for the AI writer and will help it structure the content accordingly.
Content Creation
Once the outline is ready, you can use an AI content generator to write the blog post. The AI writer takes into account your keywords and outline and generates unique content for you. Once it's done, you can review and tweak it if necessary. You can also add additional paragraphs of text or even images to make the blog post more engaging.
Editing
Finally, it's time to edit the blog post. This is where you will go over the entire document for any errors or inconsistencies. It's important to read through the article one last time before publishing it to make sure that everything reads well and that there are no mistakes.
At the end of the day, AI content writing is a great way to save time and generate quality content. With the right tools, you can create great blog posts in minutes with just a few clicks. So why not give it a try today?
Use instructions-based blog outlines to generate text
When it comes to creating a blog post it is important to have an outline generated. These ai tools allow you to create an outline that can then be used as a guideline for writing blog posts. This ensures consistency and accuracy in the content you write, as it is based on instructions provided by the user.
Fact Check Always
It is imperative that you always fact-check these ai writing tools. As AI technology continues to evolve and gain momentum, it is important to ensure that the content produced is accurate and trustworthy.
This will help you maintain your credibility as a publisher and will also protect your readers from false or misleading information.
AI-generated content can be an incredibly useful tool for bloggers, but only if used responsibly.
Examples of content ai can write
AI tools are capable of producing a wide range of content, from blog posts and articles to social media copy, novels, and website copy.
Such technology offers an innovative way for companies and individuals alike to quickly create interesting material based on their unique needs.
Can ai written content be detected
Yes and no, there are ai detention tools out there that test your content to see if it was written by an ai. But ai writing assistant tools like Jasper are always undetectable. That is why I prefer to use Jasper ai.
Tips for Using AI Writer Tools
Unlocking the full potential of these tools is easy when you know what to do! Follow these simple tips and take your content to the next level.
Fact Check
Ensure you fact-check the content produced by an ai writer, as some software are known to make up facts or cite bogus sources.
Keep SEO in Mind
AI tools are great for creating content, but they still require human optimization to ensure your audience can find you.
Your keyword research and SEO strategies should be applied to AI-generated pieces in order to give them their full impact.
This means there will have to be multiple rounds of editing involved – the effort is worth it though!
What can ai writing tools do in 2023?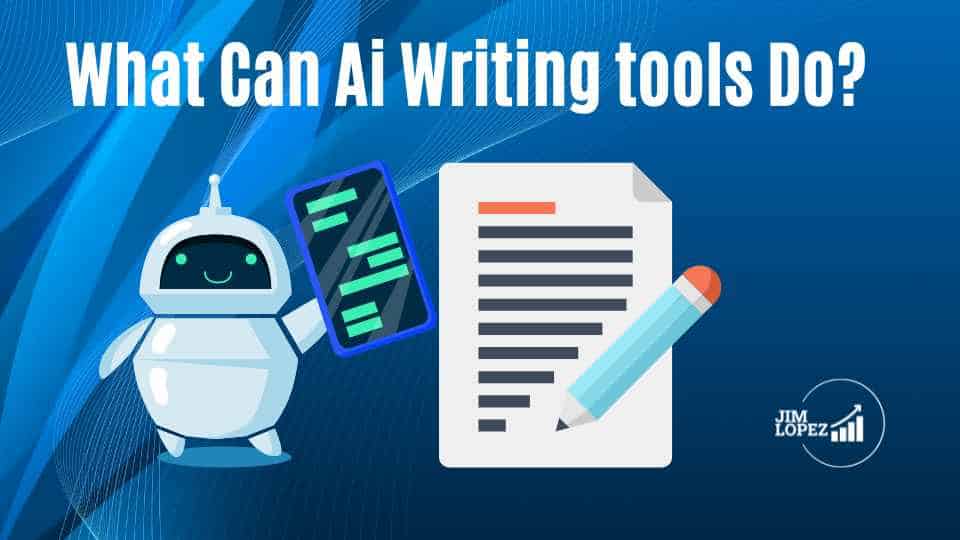 AI writing technology is transforming the way content creators create, edit and optimize their work.
AI can assist with ideas for bettering your content quality, finish sentences and paragraphs to save you time drafting from scratch, provide accurate information during research phases as well as revise existing materials into something new – all this contributing to increased efficiency in terms of productivity performance.
Despite that though, it's still up to us humans on providing useful prompts that only we possess due to our specialized knowledge along with those crucial last-minute edits regarding the accuracy or brand identity enforcement.
What is the future of ai writing tools?
The future of AI writing tools is bright. As technology continues to improve and become more widely available, it will become increasingly easier to rely on AI for content creation.
AI-generated content is already being used in many aspects of marketing, from website copywriting to social media posts and email campaigns – the possibilities are virtually endless!
Overall thoughts
AI writing tools can be a great resource for content creators. With the right knowledge and guidance, these tools can help you create quality content quickly and efficiently.
Remember to always double-check the accuracy of your content, as ai technology is not perfect. As long as you keep these things in mind, using an ai writing tool can be a great way to enhance your content creation process!
If you're looking to give your writing a boost, then check out any of these ai writing tools on the list above. My personal favorite is Jasper ai, and the great thing is that they offer free trials so you can experience their features without committing! Get started with 10,000 words for free today!