Jasper Chat – What is it and why should you use it?
Jasper Chat is a conversational ai module that allows you to communicate in real time with an artificial intellange (AI) chatbot. It is a powerful tool that enables you to create automated conversations which can be used for marketing, customer service, and more. With Jasper Chat, you can create content quickly and easily by engaging with your audience in a natural way.
Jasper Chat offers a number of different features to help streamline the content creation process. These include:
• Pre-written conversation templates – Easily create conversations with pre-written templates, helping you save time and effort when creating content.
• Highly customizable messaging – Create custom messages that are tailored to your audience's needs, allowing you to deliver more personalized communications.
• Real-time analytics – Get real-time insights on how your conversations are performing, enabling you to adjust and optimize content as needed.
• Advanced AI technology – Leverage advanced artificial intelligence (AI) technology to provide more accurate responses to user queries.
Using Jasper Chat is simple and effective. Give it a Try! Try Jasper for FREE, 10,000 free words to start.

Getting Started with Jasper Chat – Setting up your account and creating content
Jasper chat is currently in beta and is only available if you have a Boss mode account. To get started with Jasper Chat, you will first need to create a Boss mode account. Once your account has been created, you can then sign in to the platform and begin creating content for your website.
There is a Chat template inside of Jasper where you can interact with Jasper Chat.
Jasper ai Pricing
Jasper ai offers 3 pricing plans
Starter: $29/month
Boss Mode: $59/month
Business: custom pricing
As previously mentioned, Jasper Chat is only available with the Boss mode plan.
Using the Tools in Jasper Chat to Create Content – Exploring the features that make content creation easier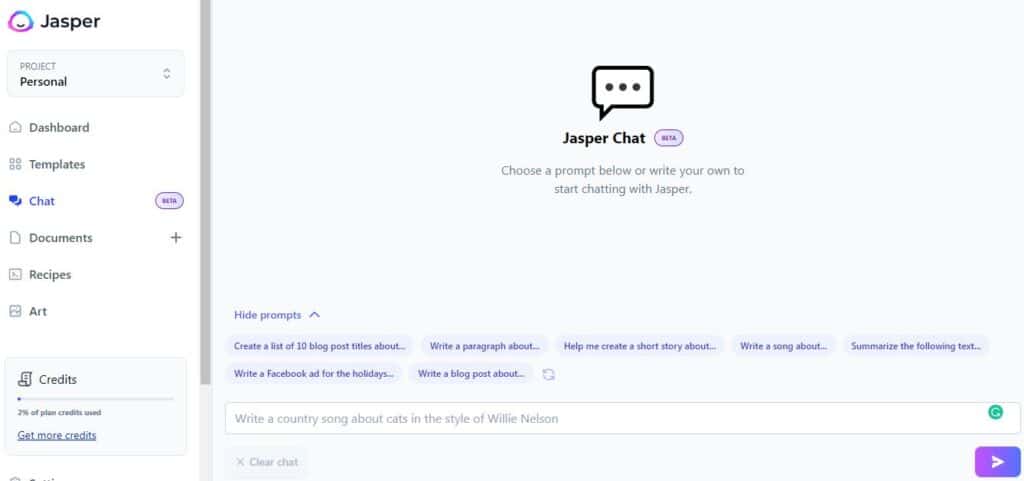 Jasper Chat has a wide range of tools and features that make content creation easy and efficient. You can create a variety of conversation flows, trigger automated responses or messages to users based on specific keywords or phrases, as well as add custom integrations to streamline your workflow.
Jasper Chat has several prompts that you can use to quickly create responses. For example, you can create a list of 10 blog post titles about…
Best Practices for Creating Content with Jasper Chat – Tips and tricks to help you get the most out of your experience
It is important to give as much information in your questions so that Jasper Chat can respond accurately. Additionally, it is important to use natural-sounding language when interacting with your chatbot – this will help create a more engaging and realistic experience for users.
It is also important to make sure that you use clear language so that the chatbot can accurately interpret user input. If you are using keywords or phrases as triggers for automated responses, make sure to use language that is easy to understand.
Jasper Chat interface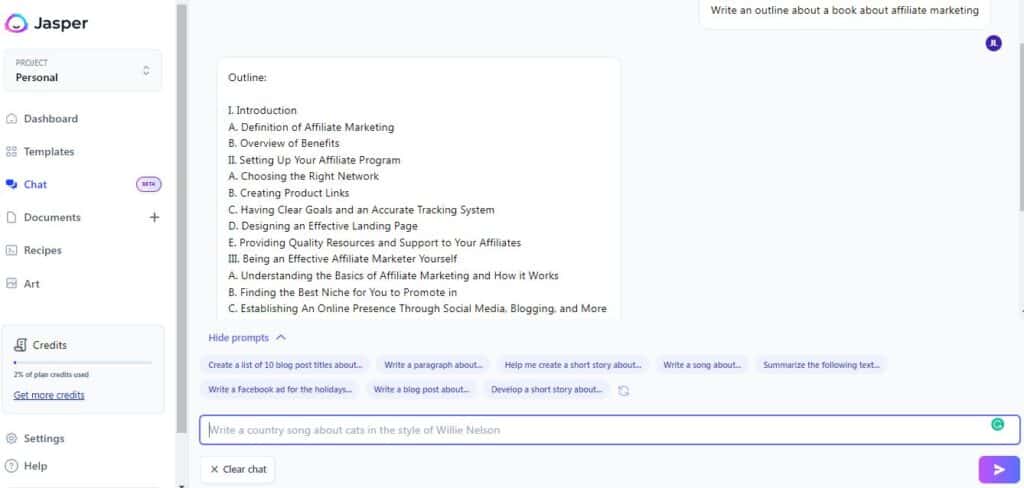 You can easily use the Jasper Chat interface. You can open up a document from the same tab so that you don't have to copy ad paste all of your content into a different document. You can also give a thumbs up or a thumbs down if you are not happy with the output that was given. You can also hit the retry button to have Jasper Chat replace the output.
These are all great features that let you interact with jasper Chat with ease.
Jasper ai
If you want to learn more about Jasper ai, check out my article on Jasper Ai Free trial. You will learn everything you need to know to get started.
Optimizing Your Content for Maximum Engagement – Strategies for getting more people to interact with your posts
Once you have created content for your chatbot, it is important to optimize it for maximum engagement. Make sure that the conversation flows are natural and easy to understand. Additionally, encourage users to interact with your bot by using calls-to-action at the end of each message or response.
29 different languages
You can have Jasper chat write in 29 different languages including translating from one language to another. This allows you to create content in multiple languages and have it all on one platform.
Conclusion
Jasper Chat is a powerful tool for creating engaging and interactive content. With its advanced AI technology, you can quickly create conversational flows that are natural and easy to understand. Additionally, the platform makes it easy to integrate custom integrations and optimize your content for maximum engagement. Try Jasper for free and see why it has become an industry favorite for creating interactive content and doing research.
There are also several resources available that can help you learn more about Jasper and take advantage of all the features available. You can find tutorials on how to use Jasper, and access helpful articles and guides, on my blog and YouTube Channel.