Mangools is quickly becoming a popular SEO tool for content creators. From keyword research to website analytics, Mangools' suite of tools makes creating dynamic content possible. But with great power also comes great expense.
The question stands: Is Mangools worth the price?
In this post, I'll explore Mangools pricing and weigh it against what the tool offers users in terms of features and functionality.
Whether you're looking for an all-in-one solution or simply ways to save on your monthly bill, let's find out whether or not investing in the free version of Mangools will be money well spent!
What is Mangools suite of Tools?
KWFinder: KWFinder is a keyword research tool that helps users discover valuable keywords for their SEO campaigns. It provides insights into search volume, keyword difficulty, trends, and related keyword suggestions.
SERPChecker: SERPChecker allows users to analyze search engine results pages (SERPs) for specific keywords. It provides data on the top-ranking pages, their backlink profiles, domain authority, page authority, and other key metrics to help users understand the competition and optimize their own content.
SERPWatcher: SERPWatcher is a tool that helps users track keyword rankings over time. It provides data on keyword positions, search volumes, and changes in ranking positions, enabling users to monitor the performance of their SEO efforts.
LinkMiner: LinkMiner focuses on backlink analysis. It allows users to explore and analyze the backlink profiles of websites, including metrics such as the number of backlinks, referring domains, and anchor text. This information helps users understand the backlink strategies of competitors and identify potential opportunities for building high-quality backlinks.
SiteProfiler: SiteProfiler provides comprehensive website analysis. It offers metrics such as domain authority, page authority, social media metrics, backlink profiles, and other SEO-related data. This tool helps users evaluate the SEO strength of a website and gain insights into their competitors' online presence.
Key Benefits of Using Mangools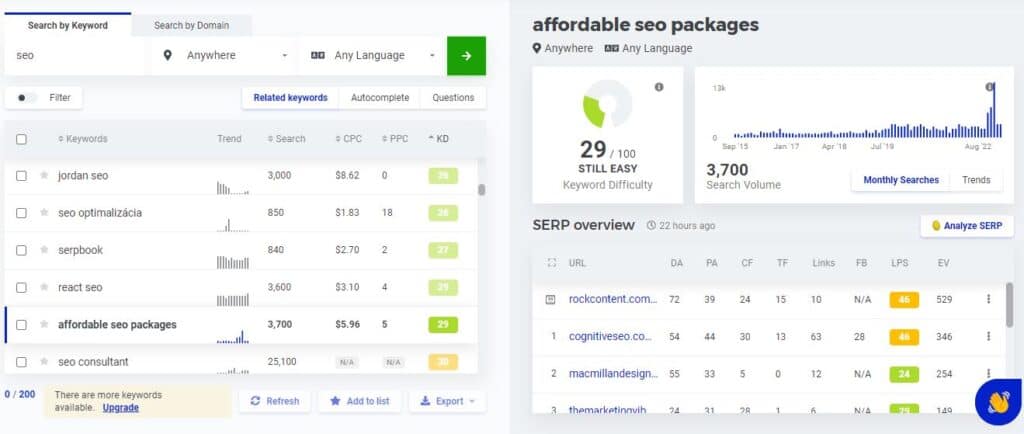 Great design and UX: Mangools is known for its user-friendly interface and intuitive design. The tools are visually appealing and easy to navigate, ensuring a smooth and enjoyable user experience.
Amazing value for money: Mangools provides a comprehensive suite of SEO tools at an affordable price point. This makes it a cost-effective choice for individuals and small businesses looking to optimize their SEO efforts without breaking the bank.
SEO-focused support: One standout feature of Mangools is their Mangools support team, composed of individuals experienced in SEO. This expertise proves invaluable, especially for beginners who may require guidance and assistance in navigating the intricacies of SEO.
Approachable for everyone: Mangools simplifies the complexities of SEO by presenting data in an easy-to-understand format. The tools provide clear and actionable insights, making SEO accessible to users of all skill levels.
Typical Customers
Mangools serves a diverse range of customers, including freelancers, businesses, mid-size businesses, and large enterprises.
Freelancers benefit from Mangools' affordable pricing and comprehensive suite of SEO tools, allowing them to optimize websites for themselves or their clients.
Businesses with limited budgets can leverage Mangools to improve their online visibility and drive organic website traffic.
Mid-size businesses utilize Mangools to refine their SEO strategies and enhance their online presence.
Even large enterprises find value in Mangools, with its key features, affordable pricing, and comprehensive toolset supporting their SEO efforts across multiple websites.
Regardless of the size or scale of the business, Mangools provides valuable features, user-friendly tools, and affordable pricing, making it a suitable choice for a wide range of customers.
Mangools SEO Pricing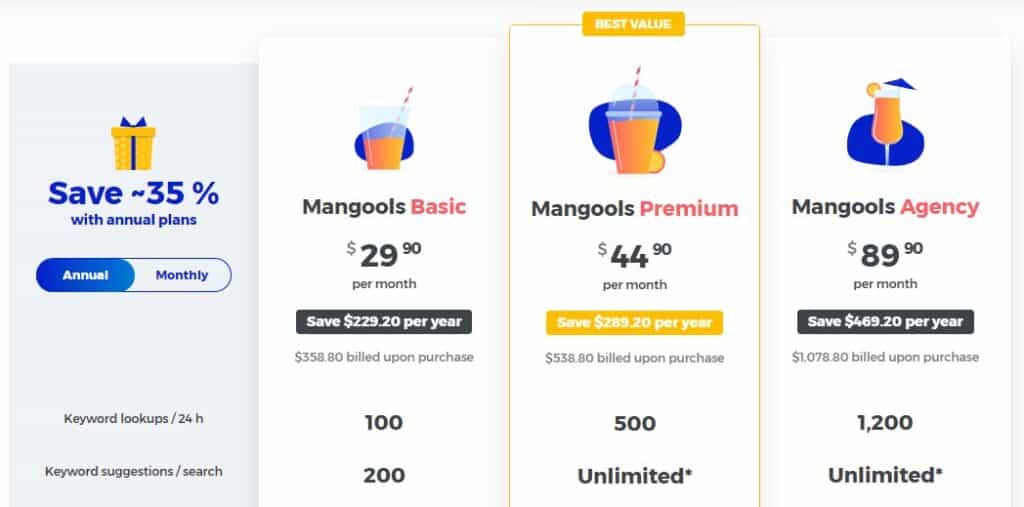 Monthly Subscription Plans:
Basic: Priced at $49 per month, this plan provides access to all Mangools tools and features.
Premium: Priced at $69 per month, the Premium plan includes all features of the Basic plan along with additional benefits.
Agency: Geared towards marketing agencies and larger businesses, the Agency plan is priced at $129 per month and offers advanced features and higher limits.
Annual Subscription Plans (Save 40%): Mangools also offers discounted annual plans, allowing users to save significantly compared to the monthly subscription. Here are the Mangools annual plan prices:
Basic: $29.90 per month, billed as $358.80 upon purchase for the entire year.
Premium: $39.90 per month, billed as $478.80 upon purchase for the entire year.
Agency: $79.90 per month, billed as $958.80 upon purchase for the entire year.
By opting for an annual subscription, users can take advantage of the discounted rates and enjoy the full suite of Mangools tools and functionality at a lower cost over the course of a year.
Mangools features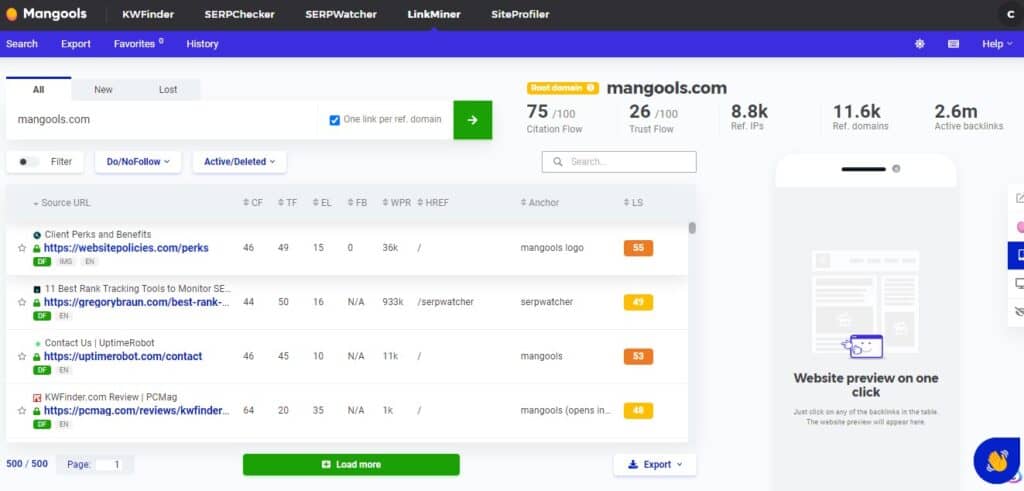 API: Mangools provides an xAPI (eXtensible Application Programming Interface) that allows users to integrate and access Mangools data with other applications or services. This enables seamless data exchange and integration into existing workflows.
Activity Dashboard: The activity dashboard provides a centralized view of key metrics and activities related to keyword, backlink analysis, and rank tracking. It helps users monitor their SEO efforts and track progress over time.
Backlink Monitoring: Mangools includes a backlink monitoring feature that allows users to analyze and monitor their backlink profiles. It helps users identify new backlinks, track the quality and authority of their backlinks, and detect any potential issues or changes in their backlink profiles.
Competitive Analysis: Mangools enables users to perform competitor analysis by providing insights into the backlink profiles, keyword rankings, and overall SEO performance of their competitors. This information helps users understand their competitive landscape and identify opportunities to improve their own SEO strategies.
Customizable Reports: Users can generate customized reports in Mangools to visualize and present SEO data. This feature allows users to tailor the reports according to their specific requirements, showcasing key metrics and insights to stakeholders or clients.
Dashboard: Mangools offers a user-friendly and customizable dashboard that provides an overview of important SEO metrics, keyword rankings, backlink data, and other relevant information. The dashboard allows users to have a quick snapshot of their SEO performance and access various tools and features easily.
Data Import/Export: Mangools allows users to import and export data, making it convenient to work with existing keyword lists, backlink data, or other SEO-related data. This feature streamlines the process of managing and organizing SEO data within the Mangools platform.
Keyword Rank Tracking: Mangools offers a keyword rank tracking tool feature that enables users to monitor the performance of their target keywords in search engine rankings. It provides data on keyword positions, search volumes, and changes in rankings over time, helping users gauge the effectiveness of their SEO strategies.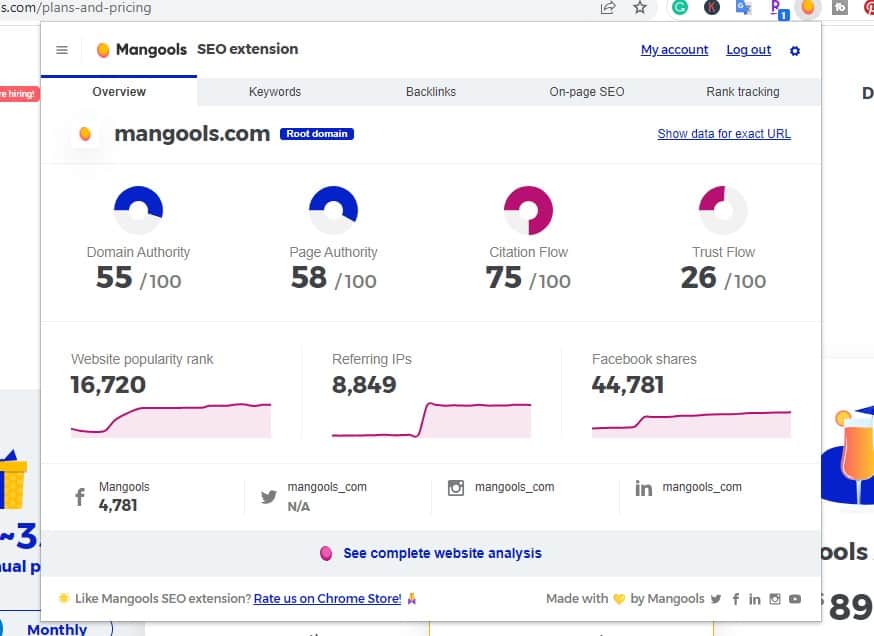 Mangools Users Reviews
"Mangools has been a game-changer for my SEO efforts. The tools are powerful, intuitive, and affordable. I especially love the keyword feature, which has helped me identify high-value keywords for my website. The rank tool is also accurate and provides valuable insights into my keyword performance. Mangools has made SEO accessible and effective for me." – Sarah, Freelancer.
"As a small business owner, I needed an SEO tool that was both powerful and budget-friendly. Mangools has exceeded my expectations. The user interface is clean and easy to navigate, and the competitive analysis feature has been incredibly helpful in understanding my competitors' strategies. The ability to generate customizable reports has also been a time-saver when presenting SEO data to my team. I highly recommend Mangools to any small business looking to improve their online presence." – Mike, Small Business Owner.
Mangools Alternatives
When considering alternatives to Mangools, two popular options in the SEO industry are Semrush and Moz Pro. Here's a brief overview of each:
Semrush
Semrush is a comprehensive SEO toolset that offers a wide range of features, including keyword , competitive analysis, backlink analysis, site auditing, rank features, and more. It provides in-depth insights into organic and paid search strategies, social media performance, and content marketing.
Semrush is known for its robust data and extensive database, making it a favored choice for digital affiliate marketers and SEO professionals.
Moz Pro
Moz Pro is another well-established SEO tool suite that provides various features, including keyword research, site auditing, link analysis, rank, and on-page optimization recommendations.
This SEO tool also offers a competitive analysis feature that helps users understand their competitors' SEO strategies and identify opportunities for improvement. This tool is known for its user-friendly interface and educational resources, making it a popular choice for beginners in the SEO field.
Final Thoughts: Mangools Pricing
As we have seen, Mangools starting price offers great value for money with 5 different options depending on the size of your business. The reasonable subscription plans make it affordable and a good choice for both freelancers and large-scale businesses alike.
Above all, one of Mangool's main selling points is that they do not lock you into annual contracts. You can cancel at any time, making them an ideal tool if you only need SEO help in short bursts.
All in all, Mangools pricing offers perfect solutions for website owners looking to stay on top of their SEO game without breaking the bank.